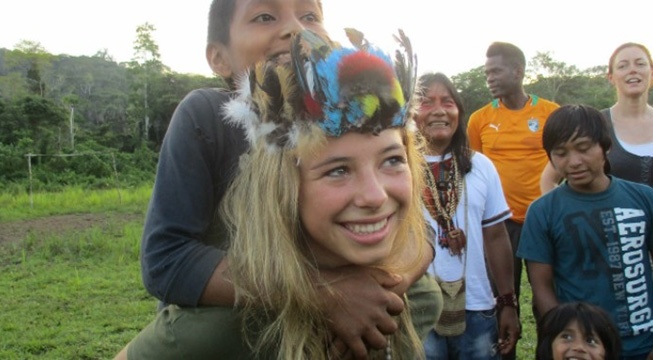 The following is a guest post by Marlena Morton. Marlena and her parents stayed with the Sápara Nation for 5 days on a Pachamama Journey and made lots of friends. She wrote this to talk about her wonderful experience with a 9-year-old boy, Emerson, who is pictured with Marlena above.
Returning Home
His tiny dark hand grasped my larger white hand with confidence and I felt a strong sense of familiarity and belonging. I always believed that family included just my immediate relatives, until I met Emerson and his family of the Sápara Nation. It did not matter that he spoke Kichwa and I spoke English; it did not matter that we lived in different hemispheres, and it did not matter that our skin was of contrasting shades, but the moment our hands clasped we sensed an undeniable connection.
Not only is traveling my passion, but it has taught me lessons that impact who I am today. The day my mom told me we were taking a trip deep into the Amazon, I did not take her seriously. The idea was so foreign to me and I had absolutely no idea what to expect, let alone the relationships that would develop. I was shocked to find that stepping off of the twenty-five-foot airplane and into the lush green forest; I did not feel like a tourist, rather like I was returning home. I was immediately greeted by the most sincere hug from Manari, the shaman. I never felt so much warmth and comfort as I had in those few seconds. This was just the beginning of my understanding the true meaning of love, happiness, and family.
Journey to the Amazon rainforest to meet the Sápara
Not only did the Sápara allow people from a completely different culture right into their homes, but they embraced their visitors with joy. I will always remember the day Francisco delicately placed a carefully hand-crafted necklace around my neck, his eyes looking into my soul, and told me "you are family now." The sincerity that came through his lips at the moment was unlike anything I had ever experienced. Just when I thought it could not get any better, his son Emerson reached up on his tippy toes and placed two more necklaces around my neck. They had been carefully crafted, then sold by the women of these villages. Emerson and Francisco had given them to me as a token of not only friendship, but family. Manari's girlfriend later told me that Emerson had told his father to adopt me, as he now considered me his older sister. I was filled with delight, as I too considered him my younger brother but thought the idea may have been a bit too crazy to be mutual.
A Life-changing Experience
The Sápara people changed my view on life in a way I never thought to be possible. Their unconditional love, and care not only for their family, but everyone else they've encountered, proved to me that love and happiness truly can conquer anything. As their positive energy radiated through me, I found myself laughing right along with them at nearly everything. One day, while stepping out of the boat, I fell right into the river completely drenching my clothes. I was able to get right back up and laugh about it the rest of the day, despite being soaking wet.
Growing up in a Rochester suburb, I have been surrounded by the desire for material goods for nearly my whole life. However, these few weeks I spent in the Amazon I realized that true happiness is found through love and connections with another from anywhere in the world. The definition of family is all of the descendants of a common ancestor. In August of 2015, I learned that the longing to be happy is the common ancestor linking us all together. People all over the world search for happiness through money and material goods, but the Sápara can teach us that true happiness is found through the love and care for one another. The true bond felt through family is unlike any feeling money or goods can produce. Not only have I been given the privilege of calling the Amazon my home, but the rest of the world my family.
Reserve Your Space for our July 2016 Journey to the Amazon rainforest with the Sápara