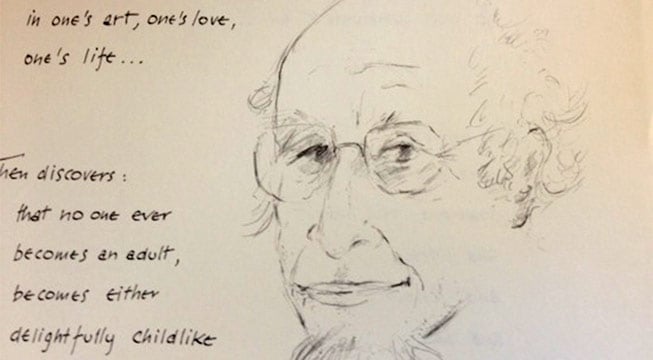 Read this poem by Frederick Franck about growing older and the wisdom he gained regarding making art and living life when you don't quite fit in.
Born innocent, one
- that's I-
strives hard to become
an adult, no longer childish,
worldly-wise
in one's art, one's love,
one's life...
Then discovers:
that no one ever
becomes an adult,
becomes either
delightfully childlike
or pitifully juvenile...
Discovers:
one's art to be outside the art game
one's faith outside the religious game
one's love outside the sex game
Discovers:
one's own little song
and dares to sing it
in all variations,
unsuited as it may be
for mass communication...
For perhaps
here and there
someone will hear it
and listen
and know
and say
Ah!
Yes!
Frederick Franck
Art as a Way: A Return to the Spiritual Roots