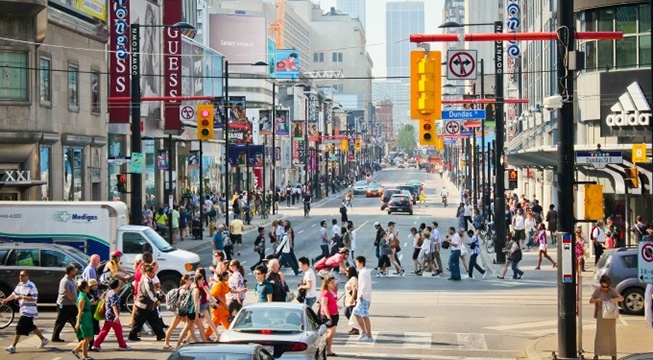 A new study published by Smart Growth America—a coalition of advocacy organizations that focuses on how metropolitan expansion affects the environment, quality of live and economic sustainability—is providing insight into why smart business decisions may also be green business decisions.
The new report, Core Values: Why American Companies are Moving Downtown, is the final product after 5 years of tracking nearly 500 U.S. companies that have moved to or expanded in downtowns and walkable neighborhoods.
Why It's Good For The Environment
The growing concentration of businesses in walkable areas can have sizeable environmental benefits. Most notably, working in a city lessens the commute for many employees and eases their reliance on gas and car transportation.
Smart Growth America ranked the businesses in terms of the practicality and accessibility of walking, biking and utilizing public transportation to get to their new location. They qualified that information by scoring the ease of those options at the beginning and end of the five-year survey and on average showed significant improvement in each of those three criteria as businesses began to locate and expand to downtown areas.
On average, across the country, businesses' Walk Scores improved from 52 to 88. Their Transit Scores went from 52 to 79. And their Bike Scores increased from 66 to 78.
In addition to shorter commutes, that in many cases can be replaced by transit or walking, the movement back towards cities also means fewer intrusions to undeveloped watersheds in rural areas.
Why It's Good For People
Living in more walkable areas has proven better for our health as well.
As opposed to sprawling areas, which have been linked to physical inactivity, obesity, traffic fatalities, residential energy use and longer private vehicle commute distances and times; a previous report by Smart Growth America showed that individuals who live in more compact metro areas have greater economic mobility, spend less on combined costs of housing and transportation, have more transportation options, and live longer, safer, healthier lives.
Why It's Good For Business
Walkable areas are beneficial for businesses as well. The newest report spoke to businesses about the driving factors behind their transitions and expansions in these neighborhoods.
Companies sited a number of motivations, including:
To attract and retain talented workers
To build brand identity and company culture
To support creative collaboration
To be closer to customers and business partners
To centralize operations
And ultimately to support triple-bottom line business outcomes
So while many of these decisions had environmental considerations, they were also rooted in sound business development as well.
But one aspect of this city surge that is important to consider are repercussions such as gentrification. As businesses expand into more centralized and walkable locations, they bring with them employees and value. At a cursory glance this seems to be great for revitalization, but it's important to keep in mind the current residents who may subsequently be priced out of their homes.
So while this trend is great for the environment and business, expansion needs to be carried out in a conscious way that not only improves the lives of incoming residents, but the livelihood of current residents as well. Cities like Philadelphia, Boston, Washington and Pittsburgh are all making efforts to welcome newcomers while also rewarding those that have stayed through years of high crime and population loss by reducing or freezing property taxes.
Change Is Coming
This movement is happening across the country. The study reported on businesses from 170 different industries including information technology, manufacturers, food production and advertising agencies. And the companies were also diverse in size, ranging from just a few employees to thousands.
The spectrum of businesses following this pattern, along with the need for them to make these changes in order to attract and retain workers, is a testament to a shift in culture that is happening across the country. More and more people are adopting a downsize mentality and moving back to the city and it's forcing businesses to follow the trend as well.
In order to change the dream of the modern world, there needs to be a shift in consciousness and understanding about the human relationship with the planet. Global citizens are beginning to see this change in consciousness and lifestyle emerge and evolve, and this report shows how business is beginning to understand and adapt to an increasingly popular lifestyle for Americans.
But changing the dream of the modern world requires much more than an apartment in the city. By taking the seven-week Game Change Intensive online course, you have the opportunity to dive deeper into the environmental and social justice issues that the planet faces today. In addition to education and inspiration, this online course equips you to be a pro-activist leader in forwarding our efforts toward an environmentally sustainable, spiritually fulfilling, socially just presence on our planet.
Learn About the Game Changer Intensive
Photo By: Flickr user Ricky Thakrar.