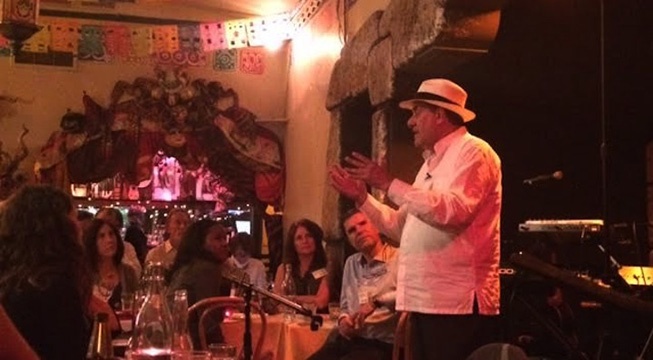 On Tuesday, June 9, 2015, Pachamama Alliance held a special event with Freddy Ehlers, Ecuador's Minister of Buen Vivir, in San Francisco. Listen to the audio recording here:
The Ministry of Buen Vivir
Ecuador's Ministry of Buen Vivir—which literally translates to "good living"—was created in 2013 and is a revolutionary concept. "Buen Vivir" or "Sumak Kawsay" in the Kichwa language does not mean "good life" the way we might think of it—having money, feeling carefree, and leading an easy life. Instead, it refers to a deeper sense of joy that comes from the concept in indigenous cultures that in order for a person to be truly happy, they must stay connected to the environment and treat it in a way that will allow it to thrive forever. This concept values harmonious living with other people, as well as the environment over accumulation of material goods.
The Ministry of Buen Vivir is inspired by this concept and strives to establish a culture where people live in harmony with the environment, are at peace with themselves, and feel connected with "Pachamama" or mother earth. This ministry also attempts to raise the standard of living for the population by means other than producing more goods. The changes they are trying to make include making education more accessible, providing better quality healthcare for everyone, and shifting the nation towards the use of cleaner energy.
The concept of "Buen Vivir" was incorporated into the Ecuadorian constitution of 2008 when it recognized the Rights of Nature, making Ecuador the first country to do so.
A Change in What People Want
Ehlers opened his talk by acknowledging his ancestors. He then explained the concept of "Sumak Kawsay" to the audience by encouraging them to close their eyes, take deep breaths, and connect with their surroundings.
While the audience members still had their eyes closed, he asked them to imagine their future. He called on a few people to share their visions with the audience. Each participant's vision foresaw a greener world, where people are less focused on personal wealth and instead committed to the health of the planet. One woman said that she imagined herself with her great grandchildren in a world that no longer uses fossil fuels. Ehlers pointed to these visions as a source of inspiration. They represented a shift in what people wanted, a shift away from material goods and toward togetherness, peace and sustainability.
Throughout his presentation, Ehlers impressed that the world is rapidly changing because young people are constantly coming up with new ideas. His speech was hopeful because of the faith he holds in these young people to use their creativity for good. For example, he cited the tiny house movement, popular among young people who are trying to downsize their lives and use only what they need. He believes that they care about the concept of "Buen Vivir" and will use their energy and entrepreneurship to build a healthier, more sustainable world.
Gross Domestic Happiness?
Elhers discussed the flaws in using the Gross Domestic Product (GDP) as a way to measure a nation's success because environmental degradation often causes an increase in GDP. For example, destroying forests by activities such as logging add to the GDP even though they take away from the natural wealth of the nation. He discussed another method for calculating the happiness level of a country and described a recent Gallup poll that asked people the following questions:
Did you feel well-rested yesterday?
Were you treated with respect all day yesterday?
Did you smile or laugh a lot yesterday?
Did you learn or do something interesting yesterday?
Did you experience the following feelings during a lot of the day yesterday? (Followed by a list of positive and negative emotions.)
The countries that ranked the highest in his poll, even though they are not the wealthiest in terms of currency, tended to be Latin American countries (Ecuador being the third). Ehlers used this to demonstrate that happiness and GDP do not necessarily correlate. According to him, "the devil is at the heart of advertising" because it takes away from people's happiness by making them less content with what they have and encourages them to degrade the environment in order to obtain more material goods.
A Sustainable Future
Elhers left the audience with the message that one's happiness level will always fluctuate based on life events. However, if a person is living with a sense of "Buen Vivir" in a healthy world, they will have a greater sense of personal peace and will be able to cope with life's challenges better than someone without this inner peace. He looks forward to a future where people work together for a more sustainable world and where everyone is more at peace with themselves.
To learn more about how you can move away from consumer culture and develop your own sense of "Buen Vivir" you can download our free e-guide, "Discovering Your True Center." Discover how to let go of who the world has told you to be and to become who you really are—moving forward to focus on your mission and goals in life.