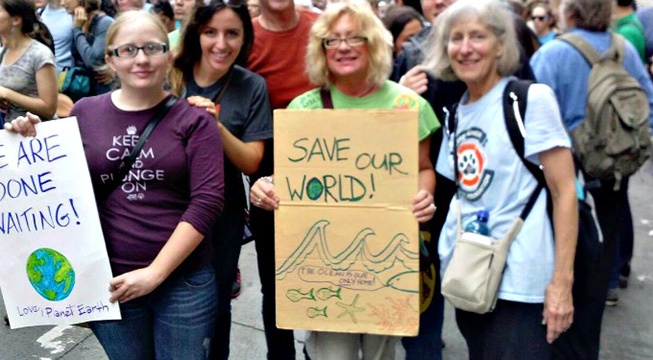 The following is a guest post by Toni Granato. Toni is a recent Master's graduate from the Patel College of Global Sustainability. She is exercising her passions as a member of the Pachamama Alliance Delaware River Valley (DRV) while looking for jobs.
A legacy has been passed between the matriarchs within the Delaware River Valley Pachamama Alliance community. For almost ten years, the commitments of women like Lee Traband, June Hament, and Lynne Iser have produced hundreds of "Awakening the Dreamer" symposium change-leaders in the greater Philadelphia region. In September of 2005, Lee, a longtime Facilitator and investor, hosted her first symposium and set out to produce one symposium per month. The ripple effect of symposiums continued as Lee facilitated June's first symposium and June facilitated mine last September. Now, a core team has been created in our region with a new expanded mission—to inspire people using the Up to Us engagement pathway including more symposiums, the Game Changer Intensive, action learning circles, and engagement in game-changing movements. These movements support representative democracy and climate change action.
As a relatively new member of this core team, I carry excitement for my generation and its future. In May, I graduated from a Master's program seeking new opportunities for my career. A few months later, I marched for climate action in New York City among environmentalists from the Jersey Shore. Until that day, I never realized the fight to create a more sustainable world was joined by old, young, and everyone in between. Our ancestors had not left our world without ensuring we would be in this fight together beyond politics, race, or age.
Our core team had the opportunity to attend a leadership training hosted by Pachamama Alliance Outreach Director, Jon Symes. Beforehand, some "elders" in the DRV core team, like Lee, considered retiring. However, after we built the new team together, Lee, in particular, found herself not wanting to retire but "re-fire".
During the leadership training, Jon, asked the group to open each day with sacred space including aspects of gratitude, spirituality, and silence. Marty, an "elder" of the group and I volunteered to open on Saturday morning. We asked each group member to choose one word to describe what s/he was grateful for. Marty found a prayer on a wall at our retreat house, which he shared with us as part of our spiritual practice. The prayer reminded me of my personal heritage so I felt compelled to choose the word: faith. My grandparents had passed on a tradition of having faith despite challenging circumstance and I felt grateful to be given that strong mentality.
For a few moments, I asked the group to reflect on their ancestors' role in not only paving the way for our existence but also providing strength for us to create a better world. Whether it is faith or persistence, the generations who live now have the tools to achieve environmental sustainability, social justice, and spiritual fulfillment. We haven't "inherited" the problems of the industrial world. The challenges we face are ones that we must overcome together—with the help of all age groups who are committed to leaving behind a positive legacy.