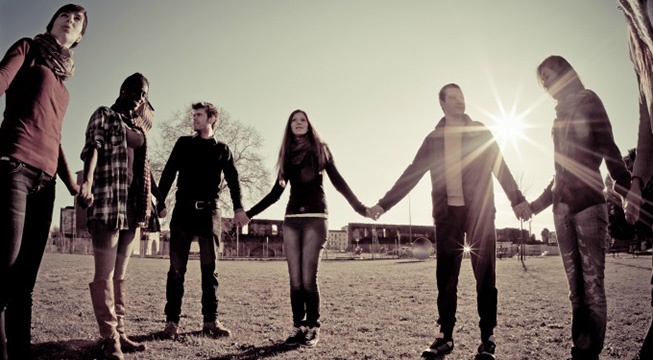 I am currently taking Pachamama Alliance's Game Changer Intensive, a 7-week online course that explores who we need to be at this critical time in human history in order to bring forth a just and sustainable world.
Here's four questions that I am learning how to answer as I'm taking the Game Changer Intensive.
1. What's the story I choose to live?
I've learned that we can choose how we see and live in this world. We can either go along with the business-as-usual corporatist system, or we can see its colossal damage to the planet and feel disheartened, or we can choose to see ourselves as part of a Great Turning to create a new way of living with earth.
It's the grounded optimism that Pachamama Alliance co-founder Lynne Twist talks about, the "posibilitist" that Frances Moore Lappe embodies, and the good news that David Korten speaks of when he says, "The changes we must make to avoid ultimate collapse are identical to the changes we must make to create the world of our common dream." Knowling that I can change the way I view the world empowers me in my efforts to enact positive change.
2. As a human, what's my responsibility to the rest of the planet?
In one module of the Intensive, Brian Swimme posits that it is our responsibility to further the conditions for life on this planet, a great motivator for examining my daily choices and actions.
Everyday, we make choices that impact the world. We have to consider: Do my daily undertakings and interactions with other people serve as food for the current systems or do they inspire a new way of being? Do they further the conditions for life or do they undermine them?
3. Do I have to do this alone?
In the CGI course I took there were nearly 600 people around the world who were participating. Tens of thousands of awakened people are living out the new story by joining groups like 350.org, Pachamama Alliance, and Transition Towns . We are the change we envision!
4. Can we really have an impact?
A recent New York Times poll gives me hope. It found that 83 percent of Americans acknowledge that climate change is real. In other words, most people are aware that humanity is negatively impacting earth's evolution with pollution, overpopulation, and global warming, but they feel stymied, powerless, or too overwhelmed with the tasks of day-to-day living to contribute positively.
Our challenge is to deepen awareness, and in so doing, build communities committed to loving the earth. The cosmos will continue to evolve, but by becoming aware, we can choose to contribute in a positive way.
Sign up for the next Game Changer Intensive
It's easy to enroll. You can participate online from wherever you live. And it's donation-based.
Become an evolutionary activist and contribute however you feel called.