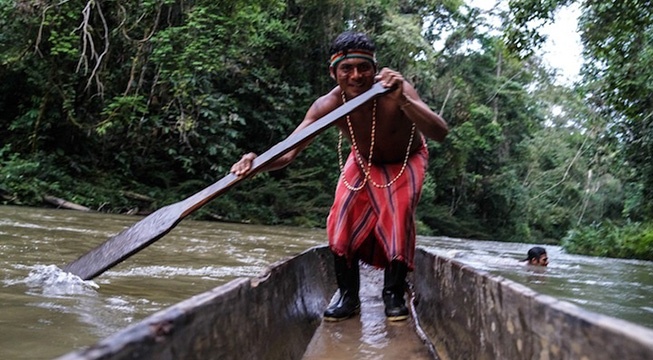 August 9th is the International Day of the World's Indigenous Peoples. Today, we want to celebrate our indigenous partners in the Ecuadorian Amazon by highlighting their success in building a movement to assert their rights to live the life they choose, in an oil-free Amazon.
The Threat of Oil
Our indigenous partners include the Achuar, Sápara, Shuar and Sarayaku people, who all live in the South Central Amazon basin in Ecuador. Their home, the Amazon rainforest, sits atop oil that the Ecuadorian government has been seeking to drill for over two decades.
After seeing how oil exploitation destroyed the rainforest, and the indigenous way of life in the northern Ecuadorian Amazon, our partners in the south became determined not to let that happen to them. To this day, no ground has broken in the South Central Amazon, due to the hard work and determination of the indigenous people who live there.
The 11th Oil Round
In November of 2012, Ecuador opened the bidding process for oil development in the Pastaza and Morona Santiago provinces located in the southeastern region of the Amazon. During this time, our indigenous partners and their allies all over the world mobilized in marches, demonstrations and actions to defend the Amazon and its people.
The government extended the deadline for the auction twice and many speculated that it was because of the indigenous resistance to oil in the area, and resistance from allied groups as well. When the auction was finally over, there had only been three bids on 4 out of the 16 blocks up for auction. Once again, the determined, organized, and passionate resistance from our indigenous partners thwarted attempts for oil development.
Changing the Dream of the Modern World
Our indigenous partners' determined struggle to keep the Amazon oil-free is an inspiration to us. At Pachamama Alliance, we strive to bring the same persistence and resolve to our work to change the dream of the modern world, a request form our indigenous partners to create a world where there is no longer a demand for oil driving oil exploitation in the Amazon.
We need your help in changing the dream of the modern world! We created the Up to Us pathway to social action in order to mobilize people all over the world to create a just, sustainable world. The first step is to take our Awakening the Dreamer Symposium, and you can find one near you.