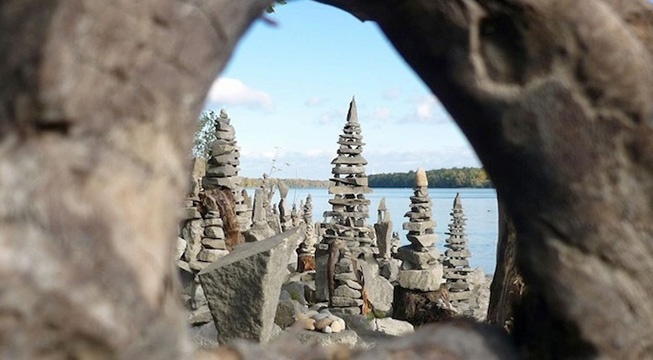 Children are naturally curious about and interested in nature, but this generation of young people interacts significantly less with nature than any of their predecessors. With the proliferation of the internet, video games, and social media, as well as parents' fear of their kids roaming by themselves, many children are now spending their afternoons sitting in front of a screen rather than exploring the world around them.
Environmental Disconnect
According to a survey conducted in Great Britain, 50% of the adult participants said they had played outside at least seven times a week as a child, whereas only 23% of the youth today do that. This new trend is leading to various problems such as obesity and a sense of being disconnected from nature. This is highly problematic because as people forget that their livelihood and that of nature are intertwined, they grow more apathetic towards problems such as environmental degradation.
Land Art
Land Art is an artistic movement that strives to remind people that they are deeply connected to nature and that nature exists within us all. It uses materials found in nature as well as the landscape itself to create pieces that are meant to exist not merely in the environment, but as a part of the environment.
Robert Smithson is considered the father of land art but was sharply criticized after creating "Spiral Jetty," a 1,500-foot-long and 15-foot-wide rock jetty that spirals out into The Great Salt Lake in Utah. Many environmentalists and artists opposed it because Smithson permanently damaged the land while bulldozing rocks in order to make the piece. Since then, land artists have pushed for a more conscientious approach to the use of the nature as art and discourage pieces that inflict any harm upon the environment.
Andy Goldsworthy is a land artist who strives to ensure that his works do not hurt the environment, but instead add to it. Some of his most famous pieces are handmade leaf patterns or "rock balancing," done by piling stones of all shapes and sizes on top of each other in formations that appear to violate the laws of physics.
Creating Land Art with Children
To nurture your child's connection with the environment, you can show them how to create some of their own land art.
Take them on a walk in nature and when you find an inspirational location, ask your child to gather materials that they would like to build with. Make sure they are not disrupting the environment (no picking leaves off trees or using twigs from birds' nests!) by doing this. Then let them turn their materials into artwork that fits in with the landscape around them. To keep in line with the principle that land art must not take anything found in nature out of nature, it is important that your child leaves it where they make it, so you might want to bring a camera along to document their creation.
Ideas for Inspiration
If they are having trouble thinking of something to make, you might suggest that they see how many rocks of various sizes they can pile on top of each other in order to create their own rock-balancing piece. Another popular project among children are "fairy houses." Ask your child to envision what kind of home the fairies or spirits around them live in and have them build that home purely out of the materials they've collected. Don't forget to get the grand tour of the house once they're done!
You can use your child's creation as a way to start a conversation with them about the beauty of nature and the need to preserve it.
To learn more about your connection with nature, download our free e-guide, "All My Relations" written by best-selling author, John Perkins. This e-guide looks at our inherent connection with all life on Earth and the implications of that interconnectedness.
Photo Credit: Flickr user Tamas Kanya