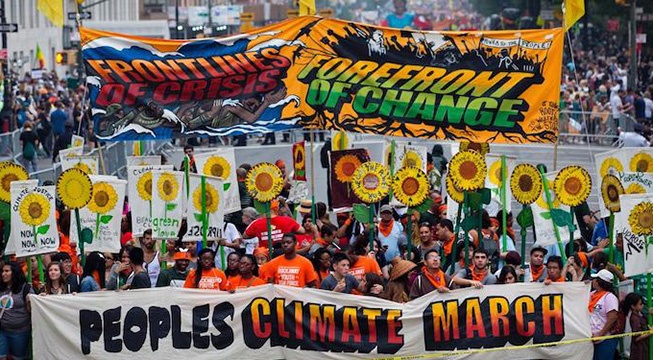 2014 was a year of huge progress for the climate movement. Around the world, people of all backgrounds displayed their concern and discontent for human induced climate change.
We witnessed a turning point in the climate movement as more people participated in actions and protests calling on world leaders to take climate action, now. Here are just some of the climate victories that people power helped win…
1. People's Climate March
On September 21st, people of all ages, from all around the world converged in New York City to march together and urge United Nations officials to take significant actions on climate change. Over 400,000 people marched through the streets of New York City and 2,646 other events were organized in 162 countries in solidarity with the largest climate march in history.
This huge event proved that the effects of climate change is a major social and political issue that deserves the cooperation of world leaders and communities mitigate.
2. U.S. and China's Climate Deal
In early November, the representatives - Xi Jinping and Barack Obama - of the largest energy consumers and carbon emitters in the world, China and the United States, collaborated and agreed on plans to limit and reduce their carbon emissions.
China made the pledge to stop the country's peak emissions by the year 2030 and also produce at least 20% of its energy from less carbon intensive sources. The United States committed to reducing emissions by 28% by the year 2025.
This deal is significant in setting the tone for future climate talks between the world's nations. China is the largest producer and consumer of coal in the world and the U.S. takes second place; if the two largest benefiters of carbon can agree to reducing their use of fossil fuels, then so can others.
While it remains to be seen if China and the United States can follow through with their promises, there is no denying that mitigating climate change was a motivating factor for the agreements between the two countries.
3. Renewable Energy Growth
A major factor in reducing greenhouse gas emissions is replacing polluting fossil fuels with energy generated from clean, renewable sources such as solar and wind. 2014 saw a significant growth in communities benefiting from renewably sourced energies.
In October, Scotland was able to power 3,045,000 homes in the United Kingdom with energy generated by wind turbines. Wind currently accounts for 17% of the U.K.'s energy and is set to incorporate more renewables into the energy mix.
The Philippines also added wind energy into its energy mix by adding more turbines to the largest wind energy farm in Southeast Asia. Thanks to expanding wind projects, Ilocos Norte - a province in the Southern Philippines - now generates 264 MegaWatts (MW) of electricity through wind. Wind generated electricity is being touted as extremely beneficial for the region as conventional power plant outages are common in the area.
In February, the largest concentrating solar power plant was officially opened in Ivanpah Dry Lake, California. With the ability to generate 393 MW of electricity, the Ivanpah solar power plant will power about 100,000 homes.
Germany continued to break renewable energy records as well. According to preliminary surveys by the German Association of Energy and Water, renewable energy based electricity generation reached 25.8 percent this year; up from 24.1 percent last year. Renewables provided 27.3 percent of gross domestic electricity consumption in 2014.
As technologies for harnessing renewable energies advance and more communities experiment with solar, wind, geothermal, and tidal energy projects, the claimed benefits of renewable energy continue to surface as true.
4. United Nations Climate Change Conference in Lima, Peru
United Nations leaders gathered in Lima, Peru from December 8-12 for COP20, to continue discussions about climate change. While the conference resulted in non-binding commitments from leaders of 200 nations to cut carbon emissions, communities displayed their own commitment to pressure leaders to take significant actions against climate change by holding demonstrations and actions that aimed to interrupt and redirect the discussions.
Activists from around the world also gathered in Lima to continue the People's Climate March along with the COP20 negotiations. Communities from various countries at the forefront of climate change impacts were represented at the march; they demonstrated to tell UN leaders that climate change has already claimed lives and negatively impacts their livelihoods, and there is no longer any room for sympathy, nations must act now to put people of profit and avoid further destruction.
5. Blocking Keystone XL
From petitions to human blockades, the Keystone XL Pipeline faced growing opposition in 2014. In March, over 400 people were arrested when young activists - opposed to the proposed tar sands pipeline - staged one of the largest civil disobedience demonstrations in front the nation's capital by tying themselves to the White House fence.
Other actions of civil disobedience were carried out across the nation, in solidarity with the Washington, D.C. protesters, making it known that the youth will not be complacent in regards to government decisions that affect the health of their future.
And in April, a group of ranchers, farmers and tribal communities calling themselves the Cowboy Indian Alliance camped out on the White House lawn to protest the pipeline. This unprecedented alliance for the protection of the environment was a beautiful show of unity and made a big impression on people everywhere.
The growing opinion against Keystone XL has definitely put the President of the United States in a tough position, but in recent months, Barack Obama has shown signs of making a final decision to reject the Keystone XL project.
6. Fossil Fuel Divestment Campaign Victories
The Fossil Fuel Divestment has been growing for a couple of years now, but 2014 saw some of the movement's biggest victories yet. The year started out strong with a Fossil Fuel Divestment Convergence held in San Francisco, in which over 300 students from college campuses across the U.S. and Canada met to learn from one another and build the campaign for success.
In May, the Stanford University campaign won a small step in the battle for full divestment when the university's Board of Trustees decided to stop directly investing in coal companies. 2014 ended on an even stronger note when California State University of Chico's Foundation Board passed a resolution to fully divest from coal, oil and gas companies in four year's time.
The campaign has taken root and found success around the globe; from Norway to the Marshall Islands, Fossil Fuel Divestment is becoming a socioeconomically conscious statement against the industries fueling climate change.
Reflecting on 2014 and Planning for 2015
As we begin the new year and look back on 2014, let us appreciate all of the people that have organized, planned, executed and participated in the effort to raise climate change awareness and work to help solve the issue.
Make it a goal to be even more present and supportive of the climate and environmental movement to help make 2015 a year of even bigger progress for positive change. Use the lessons from the last year to motivate you - and those around you - to act on the issues you care about.
Remember, change takes time, it also involves a lot of commitment and consistency to reach a goal; don't let impatience spoil your optimism. While the next year may not be the year climate change and environmental destruction is solved, it will be a year of necessary momentum.
A great way to get into action for the planet in 2015 is to take our Game Changer Intensive, a 7-week online course designed to give you the tools, knowledge and inspiration to bring forth a just and sustainable world through real-world action. Sign up for our January course to enjoy articles, videos and interaction discussions that will enrich you and help you manifest your full potential in the New Year.