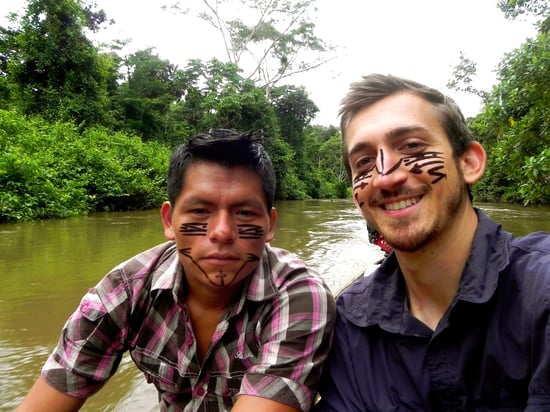 Just after the two week mark of my time living with the Achuar as a volunteer English teacher, I was walking home to my traditional Achuar house one night and had a sudden realization. I felt utterly at home. Any lingering feelings of isolation or inklings of insecurity had been gracefully dissolved by the warm-hearted presence of the Achuar people and the beckoning vitality of the pristine jungle that surrounded me.
As my rubber boots crunched the dirt below my feet and I looked around at the community lit by the setting sun, I felt a very strong, very present sense of this contentment, of this deepening feeling of belonging. I knew who lived in the houses I walked past, I had spoken to them, drank chicha with them, shared meals, danced, taught their children.
Like the tree roots that laid claim to the ground beneath my feet, my relationships here were evolving, strengthening, expanding, and deepening into the fertile culture and life of the Achuar. In just two weeks I felt at home.
How I Came to Live With the Achuar
About a year ago, I sat behind a computer screen and put my fingers to the keyboard preparing to write my first blog for The Pachamama Alliance. As a writing intern I never dreamed the months I would spend contributing in this way would pave a path to the jungle and to an experience with the Achuar people themselves.
Eventually, I did inquire into volunteer opportunities in Ecuador and was told that apart from perhaps working with Fundación Pachamama I could apply to a volunteer English teaching program run through the Kapawi Eco Lodge & Reserve in the Ecuadorian Amazon.
Several months later I was walking into the Wayusentsa Achuar community, curious Achuar children running out to see me. They would be my students for the coming month, and I their teacher. However, they and their parents would also teach me many things. I was also excited to be an open and willing student of Achuar culture and a humble participant in the rhythm of their jungle life. Now that I've returned I want to share with you what I learned and what we can all still learn from our indigenous allies.
Living for the Whole
If you follow The Pachamama Alliance blog closely (and you should!), a recent blog post explored the characteristics of thriving communities, and the importance of cultivating such communities. Reading through this blog after living in a community of about 100 Achuar helped me understand how and why I had so swiftly and so thoroughly integrated into their community life.
The Achuar I lived with embody community in everything they do and do so in an effortlessly natural way. Each individual goes about his or her day-to-day with a strong sense of self as part of a greater whole. This is how they live, and how they have lived for generations.
This is how I strive to live and being in a community with such a strong shared commitment to this perspective gave me a tangible understanding of its value to the whole and to the individual.
Creating Enriched Community
Every Achuar, including me, feels like they belong, like they are recognized and valued, that they are equals and can be heard. Where does this feeling of community come from? I believe that value emerges and flourishes because they spend time together. They interact deeply and genuinely, living individual lives enriched by a dedication to shared communal experience.
For example, every Wednesday is called a "minga" day. The whole community comes together in the morning, elected leaders say some words, community members raise concerns or offer suggestions on various logistical or daily matters, then they all partake in communal work for several hours, and finally spend the afternoon playing sports and enjoying each other's company.
And because shared genuine interaction is so highly valued and so joyfully practiced, even though I was a foreigner and had only one month with these people, we quickly discovered the nourishing depth of our common ground and the flourishing bond it helped create.
A Convergence of Values
Some of my favorite moments in the month I had were simply paying visits to a home in the evening and talking with the family, something that the Achuar do frequently. We'd sit in the flickering glow of a fire and share life experiences for hours.
The social and cultural chasm formed by our distinct backgrounds certainly became more and more apparent within these narratives, however our conversations would always eventually converge at similar social and cultural ideals. Provide for your family. Treat those in your community well. Mentor your children. Live with integrity. Love.
These are values we all strive for, their culture or ours, and remind us that in some ways, in the ways that matter most, we are not so different. There is no cultural or social chasm so wide it cannot be connected by a bridge, or many bridges of deeply shared values.
Talking, laughing and comparing in those evenings, even though we marveled at the many gaping cultural disparities, we found that these cultural layers proved no obstacle to our ability to profoundly connect on a human level.
Ultimately, experiencing the pure truth of our shared humanity brought the most essential comparison of all. That no matter where we are, or who or even what we are, we exist as one community, as a dynamic and interdependent family of life that is the Pachamama.
Further Reading