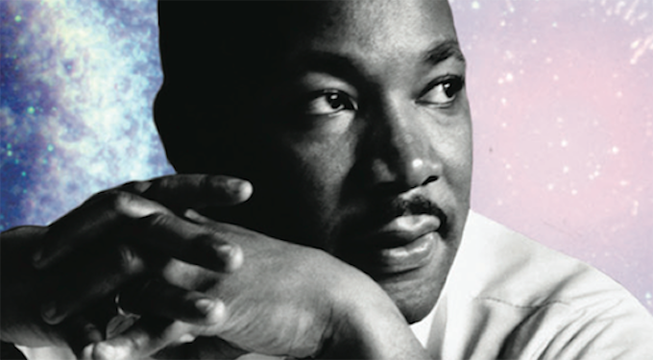 We are all familiar with Martin Luther King, Jr.'s inspiring work for civil rights, his "I Have a Dream" speech, and the March on Washington. However, there is much more to his work than just what we typically celebrate.
According to writer Drew Dellinger, Martin Luther King, Jr. developed a cosmology of connectedness - connecting racism, poverty and war, and recognizing the the interwoven nature of the universe and the connectedness of all peoples and movements - that was unique for its time. Dellinger says, "King identified systemic links between social justice issues that were largely viewed as separate, fusing them into a unified critique that fundamentally challenged the modern system."
"All Life is Interrelated"
Dellinger looks at many of King's speeches, sermons and writings showing that King's worldview is one of oneness, interconnectedness and interdependence. Here are some powerful quotes from Martin Luther King, Jr demonstrating this worldview:
"If we are to have peace on earth, we must have a world perspective."
"It all boils down to this: that all life is interrelated."
"We must see that whatever diminishes the poor diminishes everybody else. And the salvation of the poor will mean the salvation of the whole nation. For we're all tied together in an inescapable network of mutuality. We are tied in a single garment of destiny."
"The Universe is on the side of justice."
"We have cosmic companionship when we stand up for righteousness."
"It would be foolhardy for me to be concerned about integration and not be concerned about the survival of the world in which to be integrated."
Drew Dellinger is working on a book called The Mountaintop Vision that will discuss King's Cosmology of Connection in depth. For more information visit drewdellinger.org. Also, read his article in the New York Times to learn more.
Don't Let Reasons Stop You
In addition to his interconnected worldview, Martin Luther King, Jr. didn't let anything stop him from working toward his vision - not it's dangerous nature - not the fact that there were so many obstacles to overcome - nothing. This is the kind of resolve that is necessary to creating system-wide change.
Don't let anything stop you, either. Sign up for our Awakening the Dreamer Online Course designed to change the collective "dream of the modern world," and take your first step toward creating a socially just, environmentally friendly, and spiritually fulfilling world.