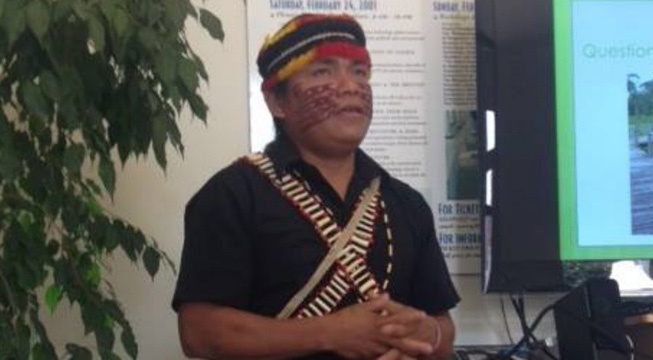 At last week's monthly gathering, we had the honor of hearing from Mateo Shakai, who is a leader in his Achuar village and a guide at the Kapawi Ecolodge. Shakai spoke about some of the fascinating aspects of his culture and the work they are doing to preserve their community.
Changing the Dream of the Modern World
As the evening began, Pachamama Alliance's co-founder Lynn Twist gave an introduction to Shakai and the organization's relationship with his community. She spoke about Pachamama Alliance's mission to 'change the dream of the modern world' through a partnership with indigenous communities. In order to change the dream, she said, each person needs to rethink the unsustainable systems that we participate in. She referred to Pachamama Alliance as a call that people hear, answer, and pass on.
Waking Up to the Beauty of the Amazon
Mateo Shakai opened his speech with an invitation. He said that the purpose of his presentation was to invite all of us to wake up to the beauty of the Amazon, and what is at stake as the rainforest remains under threat.
Shakai spoke about many aspects of his culture in the Amazon, beginning with the environment. He talked about how the forest is his home and the place where he feels the most comfortable. The forest is like his grocery store, he said -- The community members know it intimately and know exactly what they can use or eat in any part of the forest. Mateo compared his familiarity in the forest as being similar to the way that many of us are comfortable and capable at navigating our urban environments.
As the presentation came to an end, he showed us dozens of photos of birds, animals, and plants from around his home. Several pictures included giant trees, which are believed to hold the spirits of family members after they die.
Vision for a Cultural Museum
Shakai finally spoke about his goal of opening a museum and cultural center in his community to ensure that Achuar language and crafts will always be preserved. He is working now on raising funds for the museum and hopes to see it flourish as it provides cultural pride for the young people in his community and help traditions stay intact. Shakai ended the presentation with his thanks and an invitation for people to spend time in the nature that is around them, even if they live in a city. Spending just a small amount of time in the forest, he said, can help us to wake up to the beauty and interconnectedness of the natural world.
Pachamama Alliance hosts Monthly Gatherings like these every second Tuesday at the restaurant Pena Pachamama in San Francisco. Attend a future event and learn about engaging in our work to bring forth a sustainable, fulfilling, and just world!