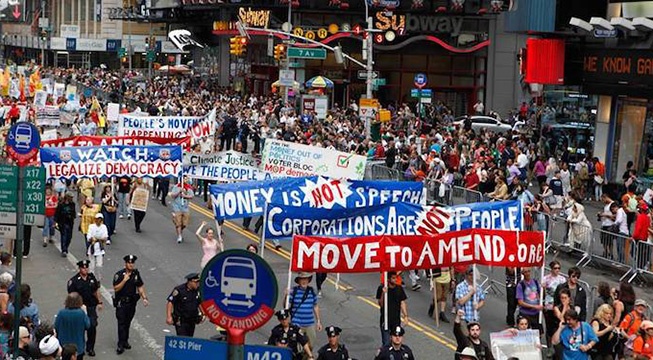 Last November, Pachamama Alliance publicly announced, at the San Francisco Luncheon, our partnership with two root striking movement organizations; Move to Amend and Citizen Climate Lobby (We later added Community Environmental Legal Defense Fund).
It was a bold move for Pachamama Alliance. Never before, to my knowledge, has a non-profit joined up with other non-profits, where the main goal is not about gathering donations. The goal of this partnership is to raise awareness and to build a global community of citizens ready to take a stand against the destructive forces that are killing our ecosystems and the dissolving the tools we use to have a voice, our democracy.
This task has really made us, here at Pachamama Alliance, take a deeper look at the programs we offer to our volunteers, facilitators, and the individuals who attend our events, like the Awakening the Dreamer Symposium. While looking deeper at our position in the world, we had a lot of questions on how to proceed. The one thing that kept popping up for us was how do we include you in these conversations? Our hope is that together, we can grow this movement to bring forth a thriving, just and sustainable world.
With this goal in mind, Jessica Munger, Move to Amend's Program Coordinator, and I met up in Oakland to come up with a plan on how to grow this movement with all of you. We spent hours talking about what was possible, kicking around ideas, drawing up images, and laughs.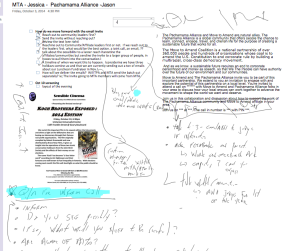 We came up with an idea to host a joint call that invites Pachamama Alliance Communities members/Facilitators and Move to Amend Affiliate members. This invitation would bring us together so we can talk about what is possible and help everyone grow the movement.
Keeping in line with the idea of having you in this conversation of development we will, in the near future, call and email members of both Pachamama Alliance Communities and Move to Amend Affiliates. This initial call is to ask these important questions before inviting them to the larger call;
Are you aware of Move to Amend / Pachamama Alliance?
Are you interested in joining forces with established communities to grow your community and efforts?
If so, what would you need to be successful?
Are you willing to have this conversation with a larger group to begin planning what is possible?
We will start with regional invites as we build out what works for everyone. With that said, this invitation is not limited to just people who we are reaching out to, we want to have you in this planning stage. If this speaks to you and you want to be in this conversation with Pachamama Alliance and Move to Amend, let me know in the comment section below - Or contact me directly and we will see what is possible to grow and build communities together.
About Move to Amend
Move to Amend is a coalition of hundreds of organizations and tens of thousands of individuals committed to social and economic justice, ending corporate rule, and building a vibrant democracy that is genuinely accountable to the people, not corporate interests.