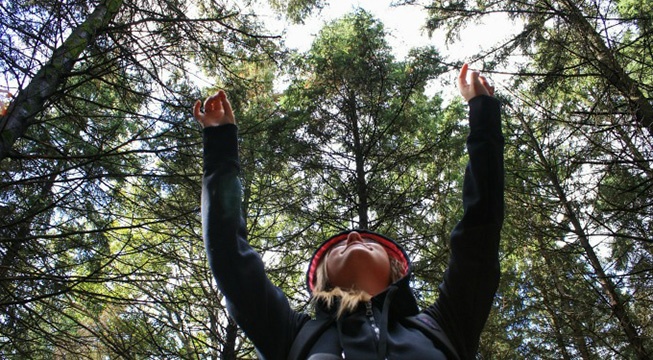 About Our New Moon Actions
In many time-honored cultures, the New Moon symbolizes potential and embodies a portal for a new vision. The moon's 28-day cycle from New Moon to Full Moon mirrors the powerful feminine energy, epitomizing the process of creation to manifestation. Working in consort with these cycles is a powerful way to realize our dreams. From this space, on a monthly basis, Pachamama Alliance offers practices and actions to realign with our values for a thriving, just, and sustainable world for all.
The New Moon in January 2016 will occur on January 9. This first New Moon of the new year is a powerful and inspiring time to set our intentions, not only for the coming month, but also for the full year ahead. As you reflect on your New Moon intentions at this time, we would like to offer a vision of paradigm-shifting hope and transformation that is currently occurring on the planet.
2015 was a very powerful year that manifested numerous global changes in attitude and perspective, especially as related to the environment and climate change. Read on to learn key shifts that occurred in 2015 as well as to discover some of the inspiring possibilities that we can look forward to in 2016.
2015: A Breakthrough Year
There is no doubt that 2015 was a groundbreaking year for the environmental movement. As our partner Amazon Watch stated:
"The era of climate inaction is over; the era of climate action has begun."
Here are three key highlights from 2015:
After years of planning, debating, and relative inaction, a global climate change agreement has finally been reached. The climate plan includes a landmark goal to keep global warming "well below 2 degrees Celsius," with a stretch goal of not exceeding 1.5 degrees. This lowering of the temperature rise target from 2 to 1.5 degrees was orchestrated with pressure from both the top (certain nations including the U.S., EU, and others insisted on changing the goal) and from below, due to relentless pressure from a multitude of civil society groups. The plan also established a format in which countries are responsible for revisiting and revising their greenhouse gas emissions progress and goals every five years. While text protecting indigenous populations was removed from the final version of the document, there was a powerful indigenous presence throughout the conference that placed significant pressure on global leaders to establish groundbreaking goals. The agreement is not perfect, but it is a huge step that marks a true turning point in human history. The fossil fuel era is over, sustainable solutions are a must for our future, and all 196 nations on the planet are committed to addressing global warming.
This document's sweeping vision set the stage to transform the global discussion on climate change. The Encyclical specifically criticizes consumerism, irresponsible development, institutionalized greed, and fossil fuels. The Pope cites these as the causes of "a relentless exploitation and destruction of the environment" and "unprecedented destruction of ecosystems, with serious consequence for all of us." It also speaks of how the poorer countries suffer at the hands of the rich, and the actions of the rich advance climate change. The Pope's words are paradigm-shifting and the Laudato Si' has made the entire world take notice of climate change as a major challenge which must be addressed.
These victories have often been driven primarily by grassroots efforts and epic amounts of pressure from civilians and indigenous peoples. President Obama denied the Keystone XL Pipeline and oil drilling in the Arctic (after significant civil pressure); more than 14 banks pulled funding away from a huge coal mining project in the Galilee Basin in Australia; and civil activists shut down the Garzweiler coal mine in Germany. Also in 2015, huge pressure was placed in many regions of the world to end fracking, stop tar sands mining, and shut down massive dam projects that would threaten ecosystems and human communities.
For more inspiration, you can read about additional 2015 climate breakthroughs by clicking on these links:
From Greenpeace: 9 Environmental Wins in 2015
From Sierra Club: 10 Biggest Environmental News Stories of 2015
From 350.org: 10 Incredible Moments in 2015
2016: A Year of Immense Possibilities
As we enter 2016, we know that unprecedented change is possible in this promising year to come. Here are a few ideas for ways that we each have a great opportunity to create movement, both in our personal lives as well as in global political and economic circles.
Reduce Energy Use Through New Technology.
According to the book The Great Transition, we are standing at the brink of a global energy revolution. In 2016 and subsequent years, we will see a massive shift from fossil fuel-based energy sources to renewable and sustainable sources like solar, wind, and higher-capacity batteries. This will change our economy and our politics in numerous positive ways.
Lessen our Personal Impact on the Planet
We can pursue this goal through minimalism, zero waste, and seeking non-fossil fuel transportation. While shifting to renewable energy sources will help, it is not the complete answer. We must make a global commitment to reduce our energy use, and this will be heavily driven by grassroots efforts. We need to reduce our consumption—we really don't need all of that stuff! When we do make purchases, we can use our dollars to vote for a brighter future. Let's choose smaller, more energy-efficient homes; buy products with no packaging at all or compostable packaging with zero net impact on the environment; eat organic, locally-grown produce; reduce our meat consumption; ride a bicycle or walk instead of driving; and reuse or repurpose items whenever possible. Every one of us can make a significant impact through adjusting our daily habits in these ways.
Personal Intentions for 2016
The time of the New Moon is a powerful period in which to set intentions and solidify our plans for what we want to manifest in the coming month and even the full year ahead. As you plan your personal goals for the upcoming year, see how you can incorporate the important goals listed above into your own personal life.
In addition, it is so important to constantly seek to deepen our spiritual understanding of the miracle of life and nature.
Consider the following intentions for 2016:
Begin a daily meditation practice.
Meditation is a powerful tool that not only reduces your own stress and increases your self-awareness, but also heightens the universal consciousness of all humankind, promoting a brighter, more spiritually fulfilling future for us all.
Listen to your grandparents and the elders in your life.
As a global community, we benefit greatly whenever we honor the wisdom of our elders and open ourselves to learning from their life experiences. In past societies, as well as in indigenous cultures today, the elders are the wisdom-keepers and preserve a great amount of knowledge and important teachings that are critical to pass on to the younger generations.
Make a record of your dreams.
Our dreams are the gateway to our subconscious as well as to deeper levels of the collective consciousness. Keep a journal near your bed and record all of your impressions immediately upon waking. Indigenous leader and shaman Manari Ushigua recently explained the importance of paying attention to your dreams when he said:
"When you sleep, remember your dreams. They will tell you everything you need to know."
Unleash your creativity.
When you immerse yourself in creative activities, you allow yourself to get lost in the moment. Try not to have any expectations or judgment about what you will manifest; just allow yourself to enjoy the process, and you will often be surprised and delighted at what you are capable of creating.
Make time for solitude.
… even if it's at 4:00 in the morning. When you set aside time just for you, you open up to exploring your inner self without any distractions. This helps you to get in touch with your truest inner voice, and you will often experience great insights and discoveries about yourself, connect with your intuition, find out what truly matters to you, and explore what you want to do in your life.
Shake things up.
Take a trip to a new location you normally wouldn't have chosen. Set up an outing with a person you've been shy to approach. Dance when you would normally stand on the sidelines. Choose something you're afraid of, and set a goal for the coming year to transcend that fear. Take up a new hobby or interest, whether it's rock climbing, horseback riding, or simply walking in nature if you normally feel you're too busy to get outside. Changing your everyday actions is the first step to making transformative changes in your life.
Join with the Pachamama Alliance
Our mission is to integrate indigenous wisdom with modern knowledge to support personal, and collective, transformation that is the catalyst to bringing forth an environmentally sustainable, spiritually fulfilling, socially just human presence on this planet. Here are a few ways you can partner with us: