[post_thumbnail size="550"]
Appreciation can be a transformative practice of adding value to our lives by giving our deliberate attention to the value of what we already have.
As our co-founder Lynne Twist says in her book, The Soul of Money:
"What you appreciate appreciates… It's true in our personal relationships, where our appreciation of someone's special qualities can make them bloom before our very eyes."
The Pachamama Alliance staff recently played this simple but powerful game to presence and foster the wealth of creativity, integrity, and generosity that surrounds us every day. We invite you to play with your family, colleagues, or group of friends!
How to Play
This game is not intended to take a long time to complete, but the positive effects will definitely last for a long time.
Create a list of everyone you're inviting to play.
Give all players a copy of the list.
Invite them to share one thing that they appreciate about each person on the list (including themselves!).
Collect all the appreciations.
Give each person the appreciations that were written for them.
There is only one non-negotiable rule: all players must write something for every person on the list.
Tips for Playing
This game works best when there is no pressure to participate, though those who choose not to play will probably wish they had!
Give people a few days or a week to write their appreciations, encouraging them to really pay attention and notice things about other players they may not have before. Appreciations can be anonymous or not – players can write their name after each comment that they don't want to be anonymous.
And while players can write (or draw) anything they want, emphasize that the game only works if they write something about every single person playing. One nice word can speak volumes!
Possible Formats for Appreciation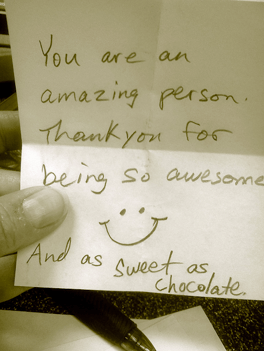 One word (kind, helpful, thoughtful, clever, funny etc.)
"I appreciate your ability to...(answer my questions, facilitate meetings, always say hello, jump rope, give feedback, quote Shakespeare)"
"I appreciate your willingness to…(be vulnerable, talk about difficult topics, clean other people's dishes, leave things better than you found them, loan me your pen)"
"I am grateful…(for your laugh, your smile, your excellent baked goods that you share with everyone)"
Why You Should Play
You'll practice paying attention and articulating acknowledgements.
You'll focus on and notice positive things around you, which is good for your health and well-being.
You'll get some nice feedback and your heart will be happy.
You'll feel more connected to everyone playing.
You'll look forward to seeing what folks have to say about you!
Have you played this game or something similar before? Share your experience in the comments!