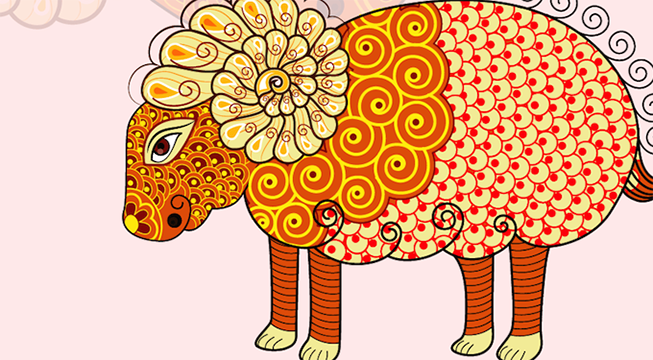 We found this lovely image here.


The Chinese New Year is here and we are now entering the year of the Sheep (also known as the Ram or Goat). It will be a peaceful and prosperous year for all.
Moving out of the Year of the Wood Horse
Last year was the year of the Wood Horse. We experienced a significant shift from the element of water to the element of wood—from a degenerative phase into a generative phase. We saw growth, dynamism, movement, and great leaps forward, fueled by passion, trusted intuition and action.
This generative energy will continue in the year of the Wood Sheep.
The Energy of the Wood Sheep
The motto of the sheep is "I depend," highlighting our inherent interconnectedness with other people, beings and spirits. The sheep is gentle, kind, calm, and gets along well with others. The sheep is artistic, romantic, and full of beauty. The year of the sheep is a time of peace, love, and creation. It is also a lucky and prosperous year.
The element of Wood is reminiscent of springtime, and brings forth new beginnings, growth, luscious plant life, and regeneration. Wood is strong, yet flexible, co-operative, and generous.
The energy of the Sheep and of Wood are very complimentary, and together they create a space for peace, harmony, and regeneration to thrive.
Practical Applications
While last year may have been a time of impulsive bursts of growth, and leaps forward, this year will be a year of slow, steady growth, recuperation, and peacefulness. This year is a good time to lay low, and rebuild resources and structures that may have been previously depleted by the energy of the Wood Horse. While it will be calm, there will also be growth occurring, like ants building a colony beneath your feet deep under the Earth's surface.
This year will be filled with beauty and artistic creation. You will find yourself growing outside your current skill-set, and working with new people in order to create new and beautiful things. You may find new opportunities for co-operation, finding friends in unlikely places, working hard together to achieve things that would be un-attainable without teamwork and love.
A Poem to Celebrate the Sheep
While researching the year of the Wood Sheep, we came across this lovely poem, that wraps up the essence of the sheep perfectly.
"I depend"
I am Nature's special child.
I trust and am rewarded by trust.
Fortune smiles upon my countenance.
All things blossom
in the gentleness of my love.
I strive to find beauty in all I behold.
I am fair of face
and full of grace.
I Am the Sheep