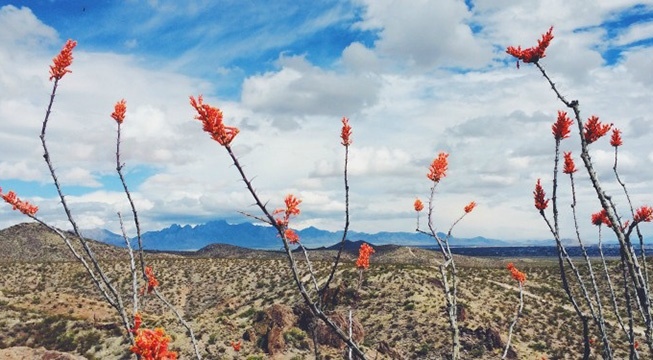 We all felt the call. Each individually, and all of us together. It came from somewhere deep within, or somewhere sacred outside of us, it was a bit difficult to tell. We all simply knew we had to go. The video message from Woman Stands Shining was intriguing, beautiful, and seemed to tug at our hearts. Some of us signed up months in advance, and one of us only two weeks before the Journey was set to begin. We came from both coasts of the U.S., we came from South Africa, from Hong Kong, from Belgium. We could not ignore that clear, sweet call from the desert.
There was no itinerary, no schedule. How different might our group have been if the schedule and discussion topics were delineated and outlined ahead of time? As it stood, we knew only that it would be a week-long journey in the high desert of New Mexico to reconnect with Mother Earth. Those of us who signed up were open to experience whatever might come.
I felt quite a lot of resistance in leaving my comfortable home life, saying good-bye to my young daughters, and pondering what the Journey would actually include. At the last minute, I thought about not going. But I had said yes, and I knew I was meant to be there, whatever physical or spiritual fears might be confronted along the way.
The Journey Begins
I arrived at the Albuquerque airport and was picked up by Pete and shared the ride with Jennifer, both of them strangers who soon became good friends. We talked about what we might expect on the Journey. "Well," said Pete, "I've learned with these kinds of things that you should come in with no expectations whatsoever."
We were greeted by a smiling Pat McCabe, Woman Stands Shining, at a New Mexico visitor's center. Pat took us down to the banks of a river that flowed swiftly, brimming with recently melted snow from the surrounding mountaintops.
"I would like to sing you a song to welcome you to this place," she said. She spoke about the sacredness of the water and the way it brings life to this place that she calls home. She stood by the riverbank and began to play on her drum.
It was a Lakota song so sweetly beautiful, and yet rugged and ancient. Soon, tears were flowing freely down my face. I could not understand the words of the song, but somehow the melody seemed familiar to me, as if it were being unearthed from a memory that I had forgotten long, long ago. Pat's voice was filled with confidence and courage that spoke of the deep reverence she felt for this water before us. We each had a chance to offer tobacco and a prayer of thanks to the river. After this short ceremony, I felt calm, thoughtful, and ready to learn more.
Learn More About Pachamama Journeys
We drove toward Taos, and as we drove, the Earth opened herself up before our eyes into a rocky gorge that cut straight down into the flat lands at the base of a massive snow-capped mountain. I stared in awe at the gorge and the muddy brown river that twisted and turned far down inside of it. I had not expected to find such a strikingly beautiful landscape on this Journey.
We navigated along dusty dirt roads and we were finally received at Casa Taos by the rest of our party. A large, long-haired dog named Chaco herded us toward the house. We introduced ourselves to one another and drank tall glasses of lemon water. Our hosts, Daniel and Betty, were close by and attentive.
Pat and David called us together. "I have a habit of making radical propositions, and this Journey is one of them," Pat told us. She spoke for a long time, and her profound wisdom flowed straight through our hearts like the river she had shared with us earlier that day.
Our accommodations were beautiful: Comfortable beds in shared rooms and a backyard with a clear view of Taos Mountain, still snow-capped in the third week of May. We grew to appreciate the great mountain as a comforting presence, always there, watching over us, no matter how far we drove around Taos and the surrounding areas.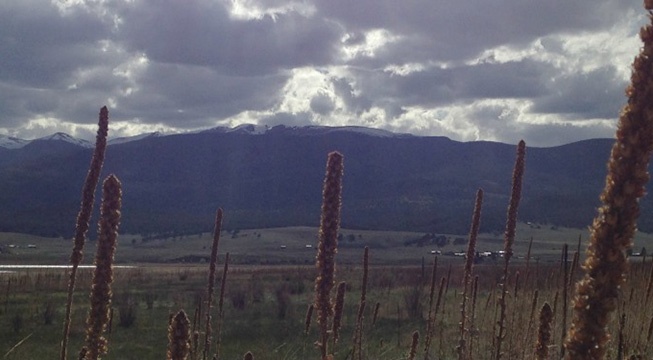 Life-Changing Discoveries
In the days that followed, Pat shared her world with us. We would gather at the large round table in Casa Taos for breakfast and dinner each day. And we would wait expectantly for Pat to take her first few bites and begin talking to us. We were hungry for her wisdom, craving to understand her perspective. As a group, with Pat's prompting, we discussed the interplay of the sacred masculine and the sacred feminine. A touchy topic to be sure, we went deep and explored the woundings that occurred to both the men and the women during the witch trials in Europe, the colonization of the Americas, and in each of our childhoods and day-to-day lives. Our group, including Pat, consisted of 9 women and 2 men. Sacred numbers to be sure, this created a beautiful balance of women seeking their deepest truth and men modeling the highest values of the sacred masculine. As women, by honoring the strength and courage of the men who Journeyed with us each day, and by breathing in Pat's teachings as if they were vital oxygen, we all emerged with an expanded sense of respect for both men and women, and the challenges we all face in today's modern culture.
Pat offered her wisdom, and welcomed our open discussion, on many other topics as well. We talked about sacred economy, and difficult decisions we'd made in the past; the ways that our parents struggled, and the incredible possibilities that could be formed from life, light, and love, and from gatherings such as ours.
I have never before in my life felt that I could speak so openly from my heart and soul, and be received with such honor, respect, and mutual understanding. The eleven of us laughed together, cried together, comforted one another, and sat silently together when it felt like that was what we really needed.
And then there was the sweat lodge. We entered the sweat lodge as innocent as babies and we emerged seared, sweat-covered, having seen the faces of the Spirits close up, all the while held safe within the loving arms of Mother Earth. Our prayers formed a beautiful melody and Pat's drum beat mirrored our heart beats as she welcomed in the helping Spirits to teach us and protect us. The ancient volcanic stones that we had chosen from the mountainside earlier that morning, became our grandmothers and grandfathers, lending us their heat from the fires of creation and burning the traditional ways of knowing into the core of our souls. This experience, in particular, both humbled me and uplifted me, and I will never be the same after experiencing the unseen in that mysterious way.
We planted the most beautiful purple and white and blue corn kernels in the soil of Pat's son's farm, where he is raising his young daughter on the very same plot of land where he grew up. Near the back of this land, a hot spring and a cold spring meet, bringing together the opposites which we so often find in nature, and the sacred water is channeled in toward the farmlands to bring life to the families who live there. In this desert climate, all of the water sources are carefully known and protected and thanked and prayed for. Ditches and channels and ingenious metal scaffoldings are constructed to carry the water to where the people most need it. We were there in the spring, after a week of rain, so the rivers and streams ran high and fast, and it all felt so sacred and sweet.
Corn, like water, is life-giving and forms the basis of many Native American creation stories. The Corn Mother is the creatrix who the people depend upon to keep themselves and their children alive and healthy. Planting those purple-blue corn kernels in the ground was an act of love, of hope, and of peace.
We hiked to the bottom of the great gorge, descending down into the heart of the Mother, and reveled in the hot springs at her base. Again, the hot water ran alongside the cold water, and we bathed where they met, as people have in that place since ancient times.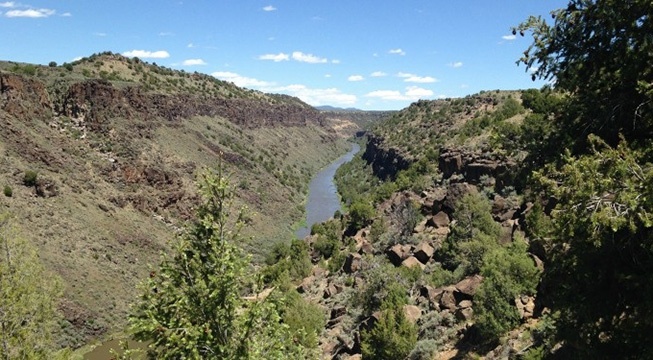 Taos Pueblo
On the last day, we experienced Taos Pueblo, which has been continuously lived in by the original indigenous people for at least the past thousand years. They have had to fight the Spaniards and send delegations to Washington, D.C., but the people there finally own the majestic lands on the side of Taos Mountain which rises up gloriously, protectively, above their town with pines and hidden lakes and a snow-capped peak. The People of the Red Willow, the traditional name of those who live there, are again allowed to hunt and fish and perform sacred ceremonies in the lands above their town. Their young men commit to a rigorous training schedule to ensure they learn the honored and ancient nature-based ways of life of their ancestors. Our tour guide through Taos Pueblo was an articulate, smiling young man whose family keeps a house there in the traditional way, without electricity or running water. He is a successful hip-hop artist with a message of hope, encouraging his fellow tribal youth to honor their heritage and beliefs.
Sitting around a fire outside Casa Taos on our last night together, we reflected on what we had experienced and talked about how we would re-integrate with our day-to-day lives. Now we felt like a family together, 9 women and 2 men who had explored the depths of our own souls and reconnected with the living spirits of this beautiful New Mexico land. Without Pat's eagerness to share her life and heart with us, and without the support of the Pachamama Alliance, none of it would have been possible. We knew this deeply as we talked, and we could feel in our souls the integrity of the land, along with the life-giving sacredness of the water flowing nearby. We knew we were forever changed. We vowed to go out from this place and seed the world with what we had learned.
Experience a Pachamama Journey for Yourself
Pachamama Journeys are purposeful, transformative travel immersions that go well beyond traditional eco-tourism or adventure travel. We journey at the request of our indigenous partners who invite us to visit and learn from their ancient cultures and pristine rainforest so that we may carry their wisdom and message home.
Take Your First Step and Join the Pachamama Journeys Intro Call with Journeys Director, David Tucker