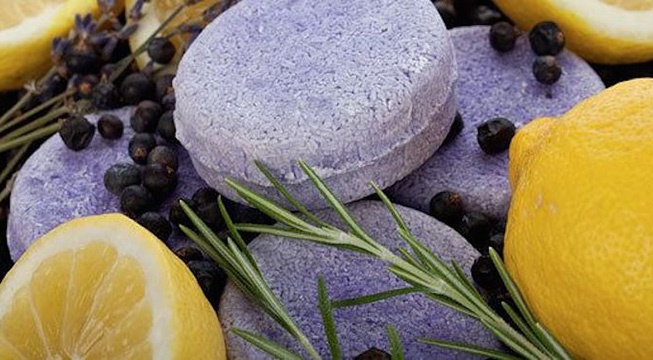 Solid shampoo from LUSH Cosmetics—shampoo doesn't have to come in bottles.

Minimizing Waste
Most of us are familiar with the concept of reducing the amount of packaging we use by purchasing items we need with either no or reusable containers. By doing so, we can cut down on the amount of waste we produce and help to reduce the strain placed on the Earth's limited resources in order to create things that are unnecessary.
When shopping, it can feel easy to take a reusable cup to a coffee shop or to lob a head of cabbage into your shopping cart without a plastic bag, but what about less obvious non-packaged items like shampoo, conditioner, or deodorant?
Many companies—even entire grocery stores—are finding innovative ways to reduce packaging. We've listed a few examples below, and you can find out more about these companies and see if they align with your values by contacting them directly.
Companies Working to Reduce Packaging
One company working to reduce packaging in their goods is the cosmetics company, LUSH. In addition to making effective products from fresh ingredients with no animal testing, LUSH also specializes in creating many everyday products without packaging. For example, LUSH makes solid bubble bars that can be crumbled into the tub instead of more traditional styles of bubble bath that you pour out of a plastic jug.
LUSH also offers an assortment of packaging-free shampoo bars and conditioners, soaps, face cleansers, deodorants, massage bars, bath melts, fizzy bath bombs, and even skin toners. Explore LUSH's website to see all that they offer as package-free.
Another company, Sappo Hill Soaps, has been making natural vegetable soaps for over 40 years. You might recognize these little hockey-puck-shaped soaps from trips to stores like Whole Foods Market, or Walgreens. Sappo Hill Soaps are produced without the use of animal products or testing and packaging is minimal, recycled, and as environmentally friendly as possible.
Cut Out Excess Packaging for Earth Day
In honor of Earth Day, take a survey of the products you are currently using and see what might be able to come in a package-free form and plan alternatives for future purchases.
Additionally, we can often make many things we need from items we already have around the house, reducing the need to buy more and stretching the uses of items we already have. Check out these DIY tips for making household cleaning products and enjoy this fun video for making your own homemade facial toner.
Photo Credit: LUSH USA on Pinterest
Share the Message of Earth Day
Pachamama Alliance team member and illustrator, Jessica Kwan, knows that every day is ‪Earth Day‬ and she has created a special series of e-cards for Pachamama Alliance to help inspire this sentiment in others. For Earth Day, you can send one of Jessica's designs to a friend or loved one and simultaneously make a donation to Pachamama Alliance in their honor.