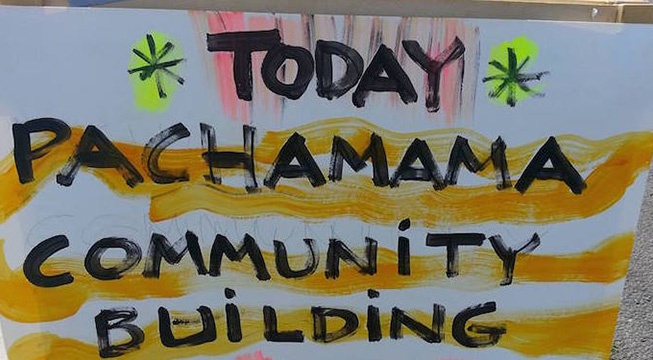 The following is a guest post that was written in collaboration by the following
Southern Oregon Pachamama Alliance Community
Core Team members: Belle Bell, Lorraine Cook, Jem Mara, Paula Perez Costas, and Victoria Pilkington.
On a recent sunny Sunday afternoon—one of those beautiful fall days when you want to be outside to take in the blue of the sky and the turning of the leaves before the gray days of winter arrive—forty people gathered in our local Grange hall for a Pachamama Alliance Community Building Day.
We had invited everyone we knew who had completed the Awakening the Dreamer Symposium, but we also extended our invitation to other groups in the community who we felt would resonate with the purpose of bringing forth an environmentally sustainable, spiritually fulfilling, socially just human presence on this planet.
It was the intention of the five of us on the planning team to define our local Southern Oregon Pachamama Alliance Community as a place of support, inspiration, and connection for everyone involved with that vision. In the interest of creating a critical mass of conscious committed people in action for a world that works for everyone, we wanted to expand our local Pachamama Alliance Community to be very inclusive, and at the same time we wanted a small group (we hoped for 10) to step up as Core Team members to share leadership in keeping the work of the Pachamama Alliance alive in this community.
What follows is some of what happened on the Community Building Day and our responses to it.
From Paula
I really enjoyed having a space to learn and practice different skills, like leadership and empowerment, that are needed to build the world we want—a world where human beings are not more than nature or animals, where some people are not more than others—a more equal and sustainable world.
In my opinion, we need to go back to our roots and acknowledge, embrace and work towards BALANCE... on all levels. It's as easy and complicated as that. I want to believe this could be a future reality between humans, as well as in the human relationship with Mother Earth and all Beings. Challenging as it was to practice working together with people of different personalities and backgrounds, the Community Building Day offered me support—it increased my faith that we can make this shift.
From Victoria
Roger Knoren and Jason Bayless, from Pachamama Alliance put a face on the Pachamama Alliance organization for me. I have to say that I got more out of the wrap-up conversation that we had afterwards as we all sat around and shared. I deeply appreciate the ease and grace that both of these young men come from. Their sense of integrity and commitment to the work that they are involved with is impressive and in many ways humbling.
From Lorraine
What did I take away from our Community Building Day? So many things. We did a leadership exercise with a partner. We presented a leadership problem, and then our partner spoke from four different possible "positions" of leadership. In doing so, she spoke out how I might think about my problem if I took these different positions.
When my partner demonstrated how I might respond to my problem from the position I usually come from, I recognized how familiar it felt—I was able to identify it as my "default" position. As she demonstrated the other positions, I recognized that my habitual pattern is just one way to respond and that in any given situation, I actually have options. I think the insights from that exercise have already been useful in my work.
Another part of the day, we "practiced" a small adaptation to the brainstorming process that made a huge difference. Every time someone wanted to speak, they first had to listen carefully to the person who spoke before them so they could begin with, "What I love about that idea is…..and what I want to add is…." It was amazing! Not only did people listen more attentively, but also the conversation evolved in such an organic way.
I thought that the tools of the Up to Us engagement pathway were simply the Symposium and the Game Changer Intensive plus encouraging community and pointing people toward Game Changing Movements. What I hadn't seen before was that there are skills we can learn and practice as a community to literally experiment with ways of becoming a new human presence on this planet. That is a huge gift that the community development group at the Pachamama Alliance is offering—finding ways to help us practice doing things differently. I can't wait to see what they bring us to try the next time they come!
From Mara
I learned things I hadn't learned before about leadership—a whole new model of ways to do it and I think these practices can be useful not just to us in the Pachamama Alliance Community for other groups as well. The format for the day embodied community building. We got to know each other. People had a good time making connections. In the end, people stepped up and the content was really helpful.
From Belle
So you can get from what has been shared, it was quite an afternoon. The generosity of the stand that Pachamama Alliance is creating for the next level of leadership is so wonderfully demonstrated by who Jason Bayless and Roger Knoren are. They helped us create the day in advance and carried it off with verve—listening and learning every step of the way and utilizing our energies in the best way possible.
What occurred out of our Community Building Day is only beginning to reveal itself. What we can say is that although we intended for at least 10 to step forward into our Core Team, in the end we had 19 step up at the event and 3 more since then—one person who hadn't been there, but when she heard about it, said "Count me in!" We are empowered to use the tools shared with us and the ones yet to be shared by the Pachamama Alliance to focus on what our Community wants and needs.