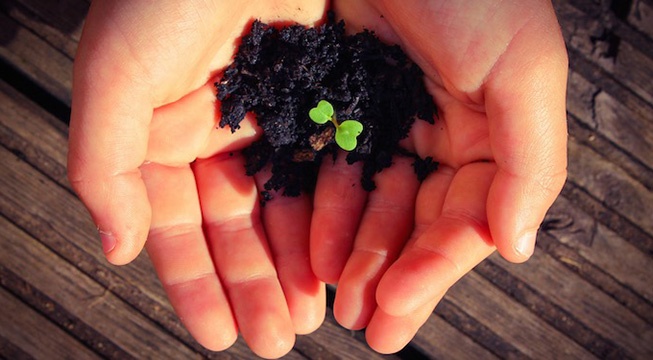 Human beings are not separate from each other or Nature. We are totally interrelated and our actions have consequences to all. What we do to others we do to ourselves. What we do to the Earth we do to ourselves.
Earth Day is celebrated globally as a time to reconnect with Mother Earth. Tuning in to the rhythms and needs of Pachamama, the holiday can serve as a reminder of the oneness of self and environment. Earth Day aligns this year with April's full moon, recognized by different cultures as the Pink Moon, Egg Moon, Sprouting Grass Moon, or Growing Moon, honoring the renewal of springtime.
This convergence creates a unique opportunity for meaningful action. Representatives from a record 155 countries will meet on April 22 for the U.N. Paris Agreement Signing Ceremony, pledging to clean up dirty industry for the sake of the Earth. Understanding our place in connection to all things can help us approach the long standing tradition of spring cleaning in new ways that work toward a deeper cleansing of not just our physical homes, but ourselves, our spiritual homes, and the shared home of Pachamama.
Take Action this Earth Day in Defense of the Amazon
Cleaning the Home
Spring cleaning is an age-old tradition in cultures from all corners of the globe.
Home cleaning rituals are associated with the Lunar New Year and many homes in China get a springtime deep clean to sweep out bad luck from the past year and make room for the good luck of the new.
Nowruz, Persian New Year, incorporates cleaning rituals that include preparation of the garden for new growth and using herbs and fresh flowers to cleanse indoor spaces.
In parts of Southeast Asia, the spring festival of Songkran highlights cleansing with an emphasis on the purifying power of water.
We can green our cleaning practice this Earth Day by taking into consideration how easy on the Earth our cleaning practices are. Consider trading out cleaning products with unnecessary packaging and heavy chemicals for simple homemade options, using ingredients that you might already have on hand, like vinegar and essential oils. Reducing our use of chemically intensive, plastic heavy products can bring about health benefits for the Earth and ourselves.
Cleansing Ourselves
Our mental space can become just as cluttered as the physical space we find ourselves in. These two brands of clutter feed each other—tidying up the space around us carries the power to help us with internal cleansing work, and vice versa.
Making quiet space to meditate can help us shed the bias of past and future to open up to the cleansing power of the present moment. Letting go of the unnecessary stressors or old grudges you might discover during quiet reflection can help you cut down on clutter and create a little mental breathing room.
Take a spring cleaning approach to nourishing your body by moving away from packaged, processed foods toward fresh, local produce. Check out the natural detoxifiers in season nearest you. Engaging in the slow food movement reduces your carbon footprint and comes with major potential health benefits for your own mind, body, and soul.
Our souls need Nature. Set the intention of personal renewal by listening to the wildness within. Our presence in the natural world can unleash a spring of internal rejuvenation while reminding us that our separation from Mother Earth is an illusion.
Use Your Financial Resources as an Expression of Your Highest Values
Supporting Pachamama
Earth Day 2016 centers around the theme of Trees for the Earth. Earth Day Network has set the goal of planting a tree for every person on the planet, 7.8 billion, in preparation for Earth Day's 50th anniversary in 2020. Arbor Day, dedicated to planting, has been celebrated in the United States since 1872 and trees have long been a symbol of our intrinsic connection to the Earth.
Tree planting is beautifully simple and it's an incredibly effective way of addressing the social and environmental concerns of the present. Trees act as carbon sinks, cleaning the mess we make of excessive carbon dioxide emissions. As the Arbor Day Foundation breaks it down, "they clean air and water, slow climate change, ease poverty and hunger, prevent species loss, and feed the human soul."
Let's start the spring cleaning and get planting in time to honor the special coincidence of Earth Day and the Full Growing Moon.