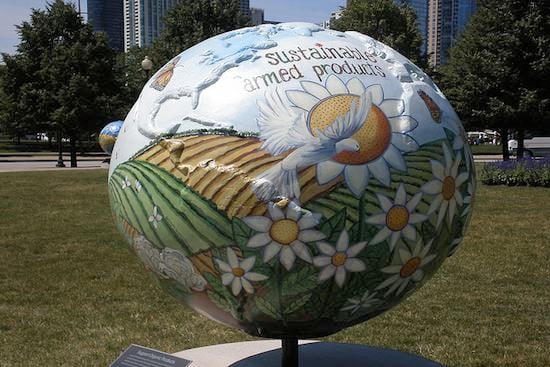 Constant environmental news reports regarding topics such as water pollution, species loss, alarming climate change trends, further habitat destruction, etc., don't paint an inspiring picture of a planetary pattern of ecological health.
However, coverage of these disturbing environmental realities also carries a highly motivating underlying message: a shift towards sustainable living is essential for the future of life on Earth.
Impassioned individuals and communities in the United States are acting upon this motivation and engaging and empowering their local communities with innovative agricultural solutions to help create a more sustainable future for themselves and The Pachamama.
A Flourishing Of Sustainable Solutions
Often, these inspiring stories of sustainable innovation don't get as much buzz in the news. However, there is a growing number of highly creative sustainable innovators out there whose solutions are profoundly impacting the health of local communities and the environment.
Danielle Nierenberg, an expert on sustainable agriculture, recently wrote a blog post for the Huffington Post in which she highlighted projects across 25 U.S. states that are helping to reform and revitalize the way we think about agriculture and food production.
Below are just a few of the examples:
Arkansas - The City of North Little Rock, Arkansas has been given $1.5 million to encourage healthy nutrition and lifestyles in low-income neighborhoods. The mission is to make the City of North Little Rock a Fit 2 Live community that is committed to healthy eating and active living by creating an environment that recognizes and encourages citizens to adopt healthy life choices.
Kansas - The New Roots for Refugees program helps women refugees start their own small farm businesses growing and selling vegetables in the Kansas City area. The program, run by Catholic Charities of Northeast Kansas and Cultivate KC not only provides the women with garden plots at a public housing site, but also financial literacy and English as a Second Language (ESL) classes. The women remain in the program for a few years, gradually becoming more independent until they transition to running their own farm businesses.
Louisiana - Our School at Blair Grocery is an independent school and education center in New Orleans that gives disadvantaged youth the opportunity to become part of a supportive environment by engaging them in community-development activities. OSAG runs an urban farm that gives students the chance to learn and becoming actively involved in the local food supply chain.
Kentucky - The Restaurant Rewards Program is an incentive for restaurants in Kentucky to purchase local produce with the "Kentucky Proud" seal. Funded by the Kentucky Department of Agriculture, the program helps compensate participating restaurants for the higher costs of buying local foods, helping them lower their food costs while also promoting fresh ingredients.
Many Paths to Sustainability
These four examples and the full list of 25 states provide inspiring insight into the U.S. landscape of sustainable agricultural innovation. What is particularly striking is the wide range of avenues by which individuals and communities can embrace sustainable models.
From the women refugees starting their own farm businesses, to educating Alaskan youth in schools, the path to a sustainable future runs deeper than simply sourcing food locally or buying only organic goods.
Tending to the Whole
At The Pachamama Alliance we strive to create a sustainable future and do so with a firm belief in the importance of tending to social and spiritual needs along the way. A sustainable human presence on this earth will be one that engages all aspects of the human community, local and global, social and spiritual, in a shared commitment to each other and the environment.
Achieving a sustainable way of life calls for a deep realignment of values and a coherent system of human communities that recognizes those values in all aspects of life. From businesses and schools, to restaurants and nonprofits, the path to sustainability is as interconnected as Life itself.
A flow of human creativity, inspiration, and compassion is increasingly being channeled into a holistic array of sustainable agricultural projects and programs. This rising wave of sustainable innovation is gaining strength and momentum; a new tipping point is on the horizon. What will you do to help your community get there?
Revitalize Your Commitment At Our Luncheon