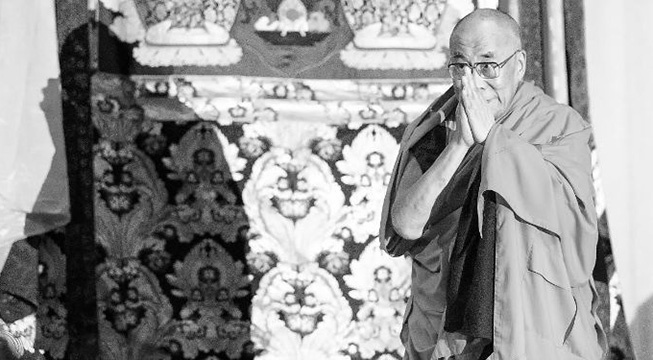 For His Holiness the 14th Dalai Lama's 80th Birthday a Global Compassion Summit was held in Southern California earlier this month. I, along with thousands of others, had the opportunity to hear the Dalai Lama and some incredible panelists discuss topics ranging from climate change to compassion to the significance of education in advancing universal human values and youth leadership.
Following the panel discussion on climate change, was a session entitled Wisdom, Vision & Experience. Alongside His Holiness, were a number of decorated activists, psychologists, artists and professors.
It Starts With Experience
In the Dalai Lama's eyes, experience comes first. Experience breeds wisdom, and wisdom breeds vision. But experience alone does not create wisdom; he emphasized the need for us to process our experiences.
Wisdom can be created through the combination of our experience and our holistic interests, he said. And if we apply that knowledge tirelessly we can achieve peace and compassion for the world.
The Dalai Lama said that the planet could be truly happy if we are able to grow into one human family.
The wisdom and vision that the Dalai Lama referenced can come from all forms of life experiences, but those of the global activists that were on the panel were truly reflective.
Turning Loss Into Opportunity
Shirin Ebadi, an Iranian lawyer and Nobel Peace Prize recipient for her work towards democracy and human rights, stressed that any loss can be an introduction to a greater success.
As a young woman, Ebadi was an Iranian judge who had her title stripped by the government.
"When I got demoted to a clerk I had to prove that (the government) was wrong," Ebadi recalled. "Since then I've written 14 book, started 3 NGOs, been awarded several prizes, and received 27 honorary doctorate degrees. Had I not suffered the loss of losing judgeship where would I be today?"
Her concluding message was for us to not be scared of losing because loss can bring you success.
The Power Is In The Person
Sitting beside her was Dolores Huerta, who has received awards for her advocacy for workers', immigrants' and women's rights.
She spoke of her journey of empowering workers to advocate for themselves.
"The power is in their person," she said. "You can have the power, but if you wait for somebody to come and do it for you it won't happen."
She spoke to the muscle within each and every one of us to make a difference in our own lives and create a world that we want to live in.
Keep Thinking
The Dalai Lama left the crowd with the challenge to think more. He encouraged everybody to investigate and create our own wisdom rather than blindly following the words of others.
"You are your own master," he said.
He challenged everybody to analyze and not just have faith; to be skeptical, to ask questions and to find their truth.
Find Your True Self
Before we can be expected to find the truths about our world, we need to find the truths about ourselves. Pachamama Alliance co-found John Perkins' guide Discovering Your True Center—Unwrapping the Onion Layers explores how we can reach new levels of potency and effectiveness when we discover our true center.
By downloading the full E-guide you can learn how to awaken your true potential and free yourself from unconscious stories of lack and limitation; you can explore how we mend the broken, consumer-driven dream we have inherited; and discover how to let go of who the world has told you to be and discover your own truth.
Photo By: Flickr user Christopher Michel.