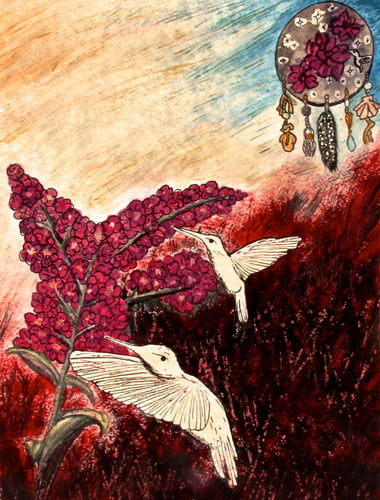 Image by W.B. White
Before she joined us at The Pachamama Alliance, one of our hard-working Development interns participated in a year-long Medicine Wheel program while attending college in Portland, Oregon.
Through an experiential weekend retreat once every three months, she explored the wisdom of this ancient knowledge. I interviewed her about this experience and learned how these sacred teachings continue to play a significant role in her life (just recently she painted the image used above).
What follows is Part 1 of a fascinating glimpse of her journey with the Medicine Wheel. Part 2 covers the significance of the Four Directions and her special connection to the hummingbird.
Not many people in their early twenties dive into the world of shamanism, how did you end up in this program?
I had a real need to connect with a tradition and a healing practice that would really be there for me, that would really help me to help myself, heal myself, and heal others. My mother died in 2009 and that just really cemented my resolve to find something that I could really connect with.
And as soon as I asked for that, and as soon as I felt that I was ready for that, I found free crystal meditation sessions that were only a couple blocks away from where I was living in Portland, Oregon. The very first one that I went to I was given a flyer for an event on Peruvian shamanism. I wasn't sure what to expect, but I actually loved it.
I loved everything about it. They called the Four Directions, the Pachamama, and the ancestors; everybody was interactive. Then we were asked to get into pairs and use our ability to connect with our higher intuition and read something about the other person.
I felt like the information that I got and the information that I told, and everything that happened within the sacred space was amazingly accurate. It was like this light switched on and I wanted to know more.
From that class I got a flyer for a Medicine Wheel session which was going to be held in Portland with El Rosenthal. She works sometimes with Q'ero shamans in Peru and had original training through The Four Winds Society, which was started by Alberto Villoldo.
So what does it mean to be trained in the Medicine Wheel?
Alberto Villoldo says that the Medicine Wheel is an exploration into the nature of time, energy and the essential self, the mystery teachings that can be known and experienced but not told.
For me, it also represents what El was imparting to us, which is that shamanism is actually one of the best forms for direct experience. You are experiencing directly. You're having your own dialogue with spirit and the nature of the universe, and the nature of the world.
You're trying to trust your own experiences, your own intuition, your own inner guide. I think for me that was really challenging, but also really expansive too because I was always looking for things to back up my own feelings or intuitions or opinions instead of just trusting them.
The more I trust myself, my own intuition, my own experiences, the more whole I feel. And it leads me on the path where I need to be. It always takes me to the places that I need to be at the exact right moment.
What are some specific techniques or rituals that you learned?
In our journey meditations, for example, we learned how to journey in the Middle World, which is this plane, the Lower World, where things are hidden, and the Upper World where you can connect to spirit forms like angels.
Another thing that we experienced was how to connect someone's heart to the earth, to the Pachamama. That involves having the person lay down while you place your hands underneath their back and just hold them and connect their energy with the Earth. I've had those last fifteen minutes to an hour.
Sometimes, just simply doing that, holding someone, and holding space for their heart to connect with the earth energy, with the Pachamama energy, is amazingly effective. It's so healing for the person. You'd think you're not doing much but you are, you're holding that space for the person so that they can feel comfortable.
What happens at the end of the course?
There is no big fanfare, no big ending to it because there's really not an end. One of the really important teachings I came away with is that you don't ever get to a point of being done. You don't ever become so enlightened that you can't learn anything else.
These are sacred medicine tools that we get to take with us and hold in our hearts for the next generations. We get to use them for our lives and pass them on so that other people can use them for their lives.
What does the future hold for you?
I hear this all the time for other friends and other people but it's also true for me, I would like to find more like-minded people. So that could be finding a local "tribe" or a local group of people where I can either facilitate another Medicine Wheel or bring other shamans in to facilitate something like that.
Really, I'd like to see modern shamanism groups being more supportive, having more support groups after the Medicine Wheel has ended so there is continued support. In Buddhism I believe they call it the "sangha," you practice with others because that helps you stay with it.
I think that's essential for shamanism, especially here in the North because you've got so many distractions, so many energies here that are trying to vie for your attention. I think it's really helpful to have that support network.
I'd also like to do more readings, to do more healings, to do more work. I am a singer and I have been looking into sound healing and things like that for a long time trying to figure out how I can fit that into things as well.
I also have a connection to Tibetan Buddhism as well as Celtic roots, so I have all these different things to try and incorporate. I think working with what comes to me, when it comes to me, that's all I can ever really do.