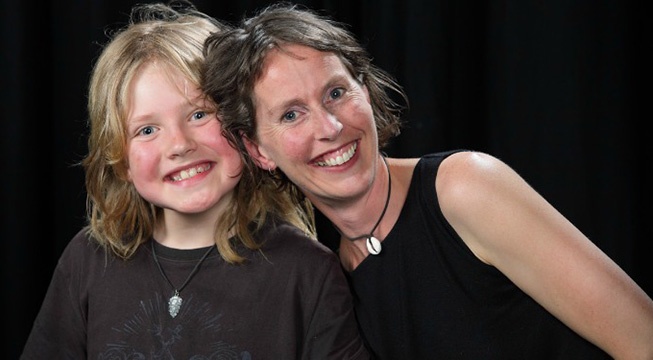 Helena and Lochie Read, Jump Up Program Co-founders in 2014

The following is a guest post by Helena Read. Helena is an international participatory event manager, remedial therapist, dance artist, and educator. Her life long professional enquiry focuses on creating and supporting transformational experiences that inspire the heart of humanity toward justice and sustainability. Her highly engaging, experiential workshops and professional development programs are enriched with movement therapy, drama roll play, deep ecology, indigenous perspectives and action learning methodologies. They assist participants to enliven self-determination and authenticity within their chosen field of practice.
She has worked on the streets with disengaged youth; in prisons, schools, aged care homes, gold mines, festivals and corporate mergers. Supporting a range of professionals from business and environmental consultants to veterinarians, educators, mime artists, musicians, and thespians.
In 2010, she co-created the Jump Up, an educational program for children that was inspired by the Awakening the Dreamer Symposium.
A gift for our Great, Great Grandchildren: The Evolving Story of the Jump Up Program for Children
I remember the very first time that I was asked to close my eyes and picture the generations of ancestors behind me, and my future great, great grandchildren before me. Our Facilitator at the time depicted a sunny scene in a wild and beautiful meadow, the grandchildren thanking me for all the wonderful things I had done to help our world and our human community at the time of great changing—I saw and heard nothing. Stretching out before me was a dark empty space, it was neither full, nor empty, it just was.
At the time I was incredibly self critical, I felt like a failure, how could the future of my great, great grandchildren be so blank? In retrospect, I believe that the blank space I saw and felt was the essence of Tao. Nothing at that time could possibly have captured the profound love, gratitude, and entirely life-changing journey that began unfolding moments later—a journey that would become my gift for our great, great, grandchildren.
Let's just say that I was skeptical when I signed up for the Awakening the Dreamer Symposium. A young lifetime's work in health, wellbeing, and direct environmental activism had left its mark; my hope was entangled in disillusion, my blank vision was no surprise. The surprise came in how much I was moved during the three hours of the Symposium. My heart felt fully alive for the first time in years, a passion was flowing in my veins like an invisible thread pulling me to a future I could never have dreamed on my own. Of course, I signed up for the next Awakening the Dreamer Symposium Facilitator training, and the rest, you could say is history!
The Birth of Jump Up
Five months on, in late September 2010, I am standing in my 7-year-old son's schoolyard flexing my newly fledged Facilitator wings, it's a calm, bright, spring afternoon, sunlight dancing on every available surface, children happily playing. I am talking with Lochie's teacher who is intrigued about where I have been for the last ten days—as a single mum with two young children it is rare for me to go away for such a length of time! What had I been doing? I told her about my training to facilitate the Awakening the Dreamer Symposium and she asked quite simply "Could you bring it to our class?" In that moment, the world held its breath and I said Yes...
A few short (and very busy) weeks later I crossed over the threshold of the Winters Flat Community Class, in Central Victoria wondering if I had bitten off more that I can chew! Uncle Alan Parsons, an indigenous Australian Elder was smoking up a storm of eucalyptus with a traditional cleansing ceremony. 30 children, 2 teachers, 3 parents and a babe in arms stepped through the smoke that day. During the next 8 weeks we created, experienced, and became a part of the birth of Jump Up, a primary years program dedicated to valuing our children as participants in bringing about a thriving, sustainable and socially just human presence on earth.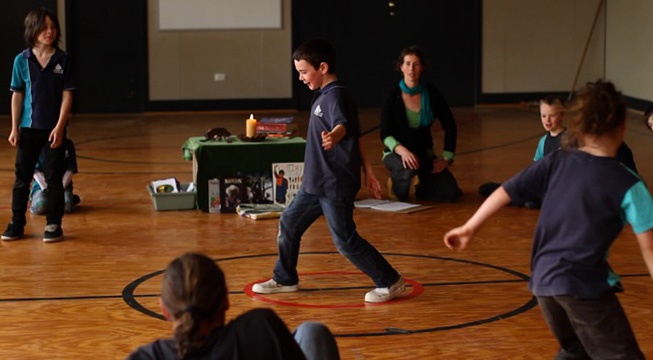 Students participating in the Jump Up program

The sheer joy and profound impact of those 8 weeks is best described in the words of two of the children in our class.
The first, 8-year-old Reuben, who on week three of our educational journey together raced across the school yard (and out of his way) to practically rugby tackle me while pleading "Please, please Helena, can we have the next Jump Up class today? I can't wait a whole week till the next one!" My answer simply had to be "I am sorry Reuben, but you have to wait because the next lesson has not been written yet and it will take me at least a week to figure out what we will be doing."
The second, 7-year-old Gabe, a child who rarely enthused about lessons with more than a few understated words, who at the end of the first session (and every subsequent session of the program) raved to his mum during the whole 20-minute drive home about how "We share atoms of our breath with the dinosaurs" and "The water in our blood comes from the oceans."
At the end of those 8 weeks I closed my folder, a bulging work in creation that was full of notes based on the structure of the Awakening the Dreamer Facilitators' manual. Offered thanks to my teacher/Skype mentor Alison Elliot, took a deep breath of relief and believed for a moment that my work had been done. I had stepped up, shared my passion, climbed an intellectual mountain and done my best to document everything. I was ready to go back to my day job of mother, massage therapist, and event production manager with a new conference project fast approaching.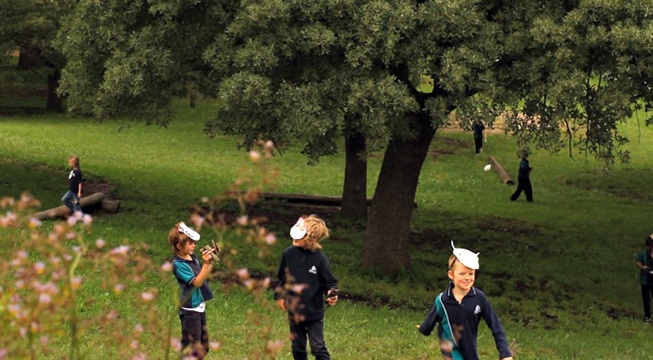 Students participating in the Jump Up program
Evolving an Educational Program and Social Enterprise
Pachamama has her own unique way of working through all of us, and it was not long before I was asked to develop Jump Up as a program model for other schools. It was a bit of a no brainer really, we had the foundations in the form of draft manual and some great documentary footage. Now, I needed the proof that it worked, and to do that I needed a team!
Two inspirational, wise women, Lee Coller and Barbara Crljen from the Melbourne Be The Change community, offered their help, friendship and exceptional passion to the development and co-founding of Jump Up. While artist Julia Peddie dedicated her time to the creation of exceptional artwork to bring the program to life in the classroom. They helped to create the raft upon which we would navigate a full trial of the program in three demographically diverse Australian primary schools.
Over 4 years we called in the advice and dedications of a team of over 50 teachers, professors, child psychologists, students, artists, filmmakers, business mentors, and cooks. Hosting three residential training and development programs, each one refining the work until we felt confident that we had a full first draft of a fully applicable cross-curricular program.
Then in 2012 a life long dream came true. I was sponsored to travel to the US to visit with the Achuar and to work at the Pachamama Alliance Head office in San Francisco, California for a week's development on the Jump Up program. A full report of this journey titled, Affirming Intuition, can be found here.
I went on a Pachamama Journey to the Ecuadorian Amazon, and as we travelled through San Clememente on our way to the rainforest, I met the granddaughter of an indigenous community member during a sacred cleansing ceremony.
In her smile I saw my future
A far distant future of generations waiting to be born
The faces of children of all creeds and colors
Luminous with gratitude and love
Two lessons presented themselves while I was traveling, the first was that Pachamama was in no doubt that the work of Jump Up was my calling in the
world...a calling not only from my own great, great grand children, but from the children of all nations.
The second was that the program we had created did not fit with the US curriculum.
I came home with a cup half full and a cup half empty... I had received blessing beyond my wildest dreams, and had made a promise to both my children and myself that one day we would return here as a family to share our work with the children of San Clemente and the rainforest. Yet to progress the program any further we needed funding.
We believed that our funding lay in one of two directions, either from Australian educational funds, or from the Pachamama Alliance community, and both of these would require a solid business model.
My next step was to wise up on business, so in 2013 I enrolled for the School of Social Entrepreneurs (SSE) Accelerator program, securing part scholarship and part investment funding (in the program) from a private benefactor. SSE provided an exceptional experience in its own right and one that felt profoundly aligned with both the intentions of the program and the necessity for us to secure a sustainable income from our work. However, in 2014 a change in Australian politics spelt the death of funding for sustainable education and put a line through the New National Curriculums priority area of Sustainability (upon which we had been hedging our bets for the programs roll out). Our business plans went into free-fall!
After a further 6 months of seeking an alternative route, I was exhausted mentally, emotionally and financially. It was time for me to take a break, earn some money with which to feed and clothe my family, and let someone else navigate for a while.
Bozena Sawa, former committee member of Be The Change Australia and passionate Community Development Agent headed the Jump Up leadership team for the coming year, leaving no stone unturned for our potential to resurrect a financially viable plan in Australia. After a year of hard work we sadly recognized that our vessel of a viable Social Enterprise was sinking. It was time for a radical rethink.
Creative Commons Public Launch
In early 2015 with the blessings of the Jump Up leadership team, I decided to launch the entire Jump Up program (student workbook, facilitator manual and all enrichment materials) on Creative Commons and "Go Walkabout" so that the program could be available to be freely used by all with a suggested donation.
Since then, the program has been downloaded and used by a handful of educators in places as far afield as Austria, Colorado, Toronto, Houston, Melbourne, Italy, England, and most recently China where I was told two days ago that a team of four teachers are now translating the materials to Chinese.
Dreaming of the Future
Today, I recall a poignant conversation from the early days of Jump Up development where Barbara and I were attempting to unravel and make sense of our leadership experience.
We identified the neurological mind fields of working outside our comfort zones, in areas of expertise that were a visceral, somatic sensation, as opposed to academic mastery. I likened the experience to navigating a boat on the Severn Estuary, the home of my ancestors in the South West of England. The estuary here has a 12 meter tide, one of the highest in the world. When the tide is out, no ocean is visible from the seafront and all that remains is a distant small stream nestled below glistening and treacherous mud flats.
At times it has felt like our leadership tide is way out of sight, the ocean a distant promise. Today, as I look out over the Severn from the top floor of my father's home, the ocean is at high tide, a fleet of boats enjoying racing their summer regatta.
My heart is brimming with compassion, hope, and profound gratitude, and once again I feel the call of my great, great grandchildren asking me to fulfill my dream of working with Jump Up in the rainforest. The ocean is calling me to navigate towards my dreams. My dream is to work with my now teenage children in the Amazon rainforest as we share Jump Up and grow it to its next stage of evolution.