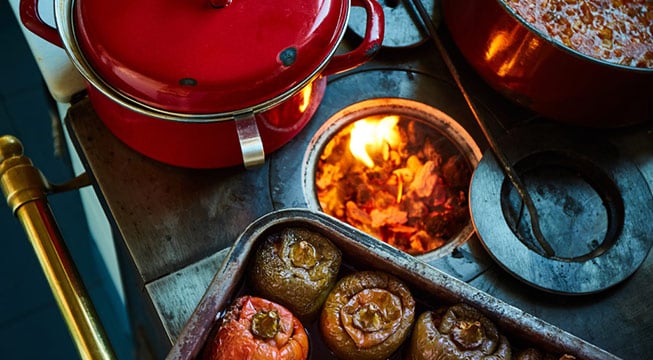 When I was in college, a fellow student gave a presentation on eating wild foods. She gave the class an analogy: imagine that your cells are a lock, and food is a key. Wild foods, she argued, are keys that fit perfectly into the lock. After that, food is, to varying degrees, like duplicate keys – some still a good fit, others less so. And then there are foods that are like new kinds of keys entirely – ones that, if forced into the lock, fit so poorly they jam, or even break off in the lock, causing damage, because they are something one never sees in nature. Food can serve as medicine, unlocking health. But food can also serve as poison, unlocking illness.
I don't know how accurate the key analogy is, but it makes sense that incorporating edible wild foods into our diet is good for us. And it's an intriguing concept that is fueled further by the notion that we may have cellular memory of a sort.
Food Can Remind Us Who We Are
Case in point, an Hispanic woman once told me she struggled with food as a little girl. She had been adopted by a white couple and fed a typical American diet. She said she felt unenthusiastic about most foods placed in front of her, and her parents struggled to get her to eat…until one day, when her parents took her to a Mexican restaurant. There, her palate had a revelation. For the first time in her young life, she was loving what she was tasting. For the first time, she realized food could be delicious.
Admittedly, most of us probably haven't struggled with food in the same way – we like a lot of different foods, from a lot of different places – and even as children, enjoyed eating at least a certain number of foods that weren't necessarily linked to any genetic heritage. But still, it is interesting that, to a little girl's untrained palate, the foods of her heritage were the ones that resonated with her, and helped her first enjoy the life-sustaining act of eating.
And this points to the fact that food can do more than nourish our bodies. Food, if we let it, has the potential to nourish our spirits, our cultures, our values, and our community spirit. Earlier this year, the UN acknowledged that indigenous foods, so often neglected by the food industry and urban populations, also have the potential to help alleviate hunger and malnutrition. And for the Northwest-based Muckelshoot Tribe, traditional foods are helping them reinforce exactly these things. In this article titled "Traditional Foods Help Remind Us Who We Are," Valerie Segrest, a nutritionist and coordinator of the Muckleshoot Tribe's Food Sovereignty Project, states that by connecting with their traditional indigenous diet, the Muckleshoot Tribe is fostering community, improving their health, and remembering who they are.
Traditional Food Principles
The Muckeleshoot Food Sovereignty Project follows "Traditional Food Principles" that allow them to attend to "the physical and spiritual health of individuals and communities, in conjunction with the well-being of the land."
The principles are:
Cook and Eat with Good Intention
Food is at the Center of Culture
Honor the Food Web and the Food Chain
Eat with the Senses
Eat a Variety of Foods
Traditional Foods are Whole Foods
Eat Local Foods
Wild and Organic Foods are Better for Health
The Muckelshoot aren't the only ones catching on to the delight of wild foods. People are taking wild food foraging classes, as demonstrated in the video above. The video also demonstrates that edible wild foods are everywhere, even parking lots and sides of roads. Additionally, one can find websites with tips on foraging wild foods.
As with all things, harvesting wild foods should be done with mindfulness and care. This link offers tips on safely and conscientiously foraging for wild foods. It's important, for example, to gather only what you need, to leave no trace, to properly identify what you gather, to understand proper preparation techniques (e.g., some foods aren't safe to eat until they have been cooked), and to be aware of wild foods that may grow in areas exposed to pesticides).
But don't be intimidated. Wild foods can be a delight: my grandfather used to make the most amazing mushroom soup from mushrooms he had gathered in the woods of Colorado, and my father used to add purslane (a "weed" that grew naturally in our yard), and edible flower petals to salads. And when I lived for a while in the Northwest, I loved being able to stop and pick raspberries, blackberries, salmon berries, and thimble berries from bushes along the sides of the roads.
Here are some more resources on wild foods, native foods, and sites that reinforce food as a way to care for body, mind, community, environment, and soul.
*Article "Traditional Foods Help Remind Us Who We Are" originally from YES! Magazine.