Have you heard about our Sister Organization, Generation Waking Up (GenUp)? GenUp is a global campaign igniting a generation of young people to bring forth a thriving, just, sustainable world.
GenUp's mission is to:
Awaken in young people a clear sense of who they are as a generation, an understanding of the urgent global challenges and opportunities they face, and a calling to take action.
Empower young people with the training, mentoring, and support needed to thrive as global citizens, leaders, and change agents in the 21st century.
Mobilize young people locally and globally across issues, geography, and all lines of difference, unleashing the collaborative power of their generation.
To realize these goals, GenUp operates through three interwoven programs – WakeUp, Thrive, and Synergize.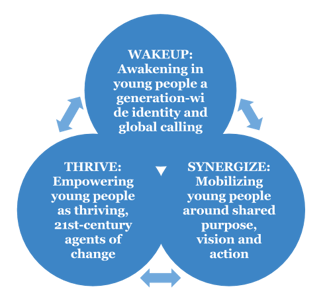 1. Through WakeUp, they use arts, media, and interactive workshops that support young people in seeing who they are as a generation, the global challenges and opportunities before them, and their unique role in shifting the course of humanity.
2. Through Thrive, they offer trainings to empower "awakened" young people with knowledge, skills, capacities, and support for creating lasting social change while deepening their own personal transformation.
3. Through Synergize, they organize local "Hubs" on campuses and in communities, larger-scale movement gatherings, and online collaboration networks to connect young people and youth initiatives across issues to create whole-systems change.
Check out their inspiring 3 minute video, and visit their website to learn more!