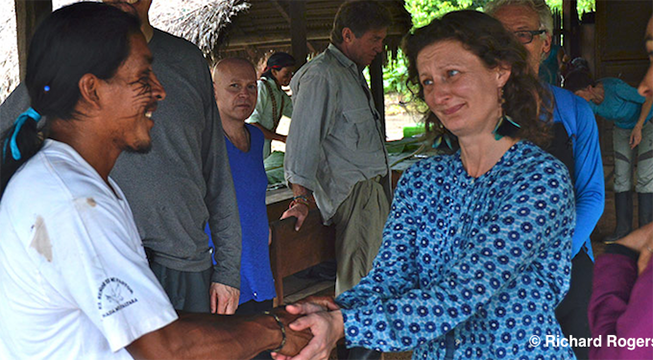 This is a guest blog from long-time Pachamama Alliance friends, volunteers, and donors, Susannah and Ya'Acov Darling Khan, who direct the
School of Movement Medicine
based out of the UK. They wrote this to express the joy they experience in partnering with our organization.
We have been working with the bridge of sustainability, social justice and spiritual fulfillment for the past 33 years. When we were introduced to the Pachamama Alliance by a student of ours 10 years ago, we were delighted to have found them.
The Pachamama Alliance is an organisation of extra-ordinarily deep intelligence and action on so many levels (spiritual, scientific, economic, social, emotional, legal, ecological, individual, local, national, inter-national). It's an organisation that is working effectively alongside indigenous partners in the Amazon who called the Alliance into existence. The fact that this is never forgotten and always acknowledged in word and ongoing deed gives a very different vibration to the whole organisation as we experience it.
The global work of the Pachamama Alliance works in a sophisticated way—via the Awakening the Dreamer Symposium and Game Changer Intensive online course—to change the dream of the modern world, working at both a personal and macro level. Participants are left informed, empowered, and energetically free. That's what we call high integrity.
The Awakening the Dreamer Symposium has become a very valuable tool for us and our students and it is no exaggeration to say that it has it has changed our lives and our work. Since we first participated, we have moved into an environmentally sustainable house and now produce 4 times as much energy as we consume. We have committed ourselves on a whole other level to working for the Alliance.
For the last three years, we have co-led Pachamama Journeys to the Ecuadorian Amazon rainforest, and our relationship with the people and villages has deepened immeasurably. Having spent a lot of time with indigenous people around the world, we are amazed at the level of trust and willingness to exchange that exists in this particular Alliance and we are very aware that this is built over 20 years of honest work and making good on promises. To be invited into people's homes on this level, to become family with the Achuar and Sápara peoples, to be able to work alongside them, has been a massive cornerstone of strength for us.
The integrity of the Pachamama Alliance is beyond that of any other organisation we have worked with. When they say you are going to do something, they do it. We bow to the love and respect for life itself that underpins this organisation and are proud, happy and honoured to be part of it.