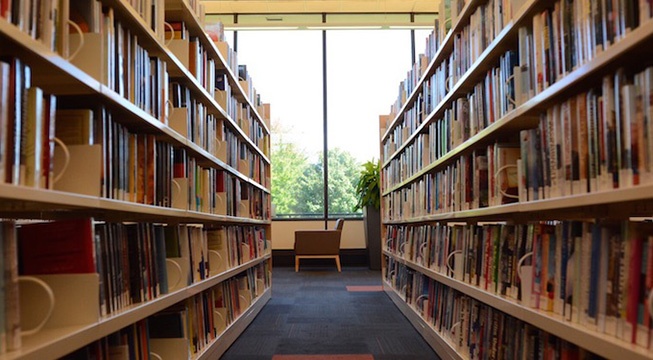 "With a library you are free, not confined by temporary political climates. It is the most democratic of institutions because no one – but no one at all – can tell you what to read and when and how."

—Doris Lessing
April 11th, 2016 marks the start of the American Library Association's 58th annual National Library Week. This year's theme is Libraries Transform, honoring the ability of library resources to transform us and our collective ability to transform them as public space. This week is a chance to celebrate the significance of libraries in our own communities and throughout the world. Our modern libraries serve us beyond bookshelves—as community centers, computer labs, and pillars of social justice.
History in the Books
In the historical scope of human civilization, it seems libraries have always existed in some shape or form for record keeping and cultural preservation. Ancient cultures of Peru used elaborate knotted quipu cords as records, beginning as early as 2600 B.C. Clay tablets were used and stored in ancient Mesopotamia dating back more than 5,000 years.
Scrolls began to replace tablets in Mesopotamia and private collections became massive libraries like the Great Library of Alexandria, founded around 300 B.C. Monks and mystics reinvigorated library culture in Europe after the fall of the Roman Empire and established the first library loan systems. Gutenberg's printing press invention in the early fifteenth century revolutionized what we have come to know and love as bound books, and libraries flourished worldwide in connection with both religion and academia.
Benjamin Franklin was responsible for bringing the first membership library to the American colonies in 1731 but it wasn't until 1833 that the first fully tax-funded public library opened in the United States, in Peterborough, New Hampshire.
Explore Ancient Wisdom in Our E-Guides
Pillars of Social Justice
In the United States, the early library movement was pushed largely by wealthy men. Women of the elite began volunteering at libraries and by the turn of the twentieth century, they had been claimed as a professional space for diverse backgrounds, rather than the elite pastime of old. Librarian schools were founded and attended mostly by middle-class women.
The career path developed as a public service. Women librarians played a critical role in the westward expansion of libraries in the country, responsible for rural education campaigns and even mobile library outreach on horseback. Between 1889 and 1895, Tessa Kelso radically transformed the Los Angeles Public Library by eliminating membership fees and pushing for the open stacks that we now think of as standard. Beginning in 1948, activist Jean Blackwell Hutson spent more than 30 years at the New York Public Library developing the Schomburg Collection for Research in Black Culture, renowned for its open research facilities and cultivation of African and African-American Studies.
Thanks to pioneers like Tessa Kelso and Jean Blackwell Hutson, public libraries in the United States and around the world, since their inception, have first and foremost stood as pillars of justice in the realm of education. India developed a free public library system in 1910 as part of a mass education campaign. In countries where government funds haven't been reserved for them, education based NGOs frequently focus investment on the creation of library resources.
Public libraries are universally important for the ideal of literacy. They provide a space for parents to actively participate in their child's learning and to learn alongside them. Growing up, a whole world was opened to me when I signed my first library card. Young kids who aren't read to at home get access to some of the resources they need at school libraries. Programs like summer reading challenges and storytime that libraries provide instill in younger generations a necessary passion for learning and a value for new ideas.
Public libraries are public space. They're community centers with movie screenings, author readings, public bathrooms, free wifi, language classes for new immigrants, health education pamphlets, computer labs, trivia nights, magazines, and books.
Discover the Indigenous Knowledge Available to You in Our E-Guides
Democratic Transformation
Critics who've argued for the defunding of public libraries since the arrival of the Internet Age have it wrong. Libraries shape us in the same way we shape them. The way we research, share, and digest information has shifted dramatically since the invention of the internet but the mission and purpose of the public library has not. Free, equal access to information is relevant now more than ever.
Those of us without electronics or wifi can go to the library for access to online library resources, job listings, and the opportunity to connect with people from all corners of the globe.
In 2009, San Francisco Public Library hired the country's first full-time library social worker. On a typical day, about 15% of the main library's 5,000 visitors are patrons experiencing homelessness. Social worker Leah Esguerra has been doing outreach for the past seven years to visitors in need of social services. She and her team approach patrons who may be using the space as refuge for sleep, which the facility doesn't allow, where they can access services like free meals, temporary shelters, and legal aid. For some clients, she even performs clinical assessments and has helped others find permanent housing. Some of her former clients now work on her team. Speaking to the mutually transformative nature of libraries, Luis Herrera, city librarian of the San Francisco Public Library said, "libraries are one of the most democratic institutions that we can have...we welcome everybody."
Why would we ever lose the need for a place like that?
Get started on your own journey towards personal transformation by downloading our free e-guides from Pachamama's library.