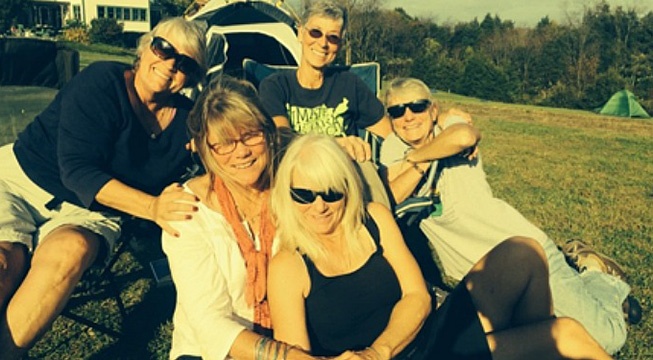 The following is a guest post by Judy Todd. Judy is a co-founder of WILD—Women Inspired, Let's get it Done. Along with 6 other Climate Warrior Women, their mission is to educate, inspire, support and act. They meet weekly by voice and meet quarterly in one another's threatened homelands where they build resilience and take actions together.
How We Got Wild
We met on the 2014 Great March for Climate Action, an 8-month, 3,000+ mile walk across America—and that changed everything. Until then, each of the 7 of us women had been occupied in our own home communities: working, volunteering, attending rallies and meetings, writing letters and clicking petitions. We talked to friends and colleagues of our concerns, read and led book groups, and researched climate change. Some of us had already facilitated Pachamama Alliance's Awakening the Dreamer Symposiums. Mostly we were each worried deeply about the growing challenges to life on Earth.
As we walked every day, camped most nights, endured freezing hail, desert heat, tornado warnings, sore bodies and blistered feet, we swiftly gained a close camaraderie. But nothing prepared us for the close encounters with the lives and deaths of those under siege from climate change and its industrialized causes. None of us saw it coming or planned to be radicalized and transformed into a tribe of Climate Warriors of a certain age.
The Zuni Pueblo tribespeople of New Mexico demonstrated profound generosity to the Marchers, even after being marginalized and impoverished for generations by white America; Colorado land owners shared their gullibility about falling for misinformation of the 'safety' of fracking; Iowa farmers taught us about the folly of belief in manufactured seeds, chemicals and fertilizers instead of listening to the land; Pennsylvania citizens carrying petitions for enacting a Community Bill of Rights to legally protect their waters and lands instructed us in the long pathway to true democracy; Terry Greenwood demonstrated tenacity by speaking out again and again yet ultimately lost his life to the toxins he spoke out about; Maggie Henry, who has been labeled a 'climate terrorist' and served jail time, is still courageously speaking out, and has been driven from her poisoned farm and home. These stories and many more drove us wild.
WILD Voices
That means WILD—as in Women Inspired, Let's get it Done. We are working together, often by long distance, and still learning together as we did when participating in the January 2015 Game Changer Intensive, and presenting the Symposium and other climate education information, encouraging and weaving connections, sharing news of actions being taken everywhere by small communities of active citizens. Inspired by our relationships to one another, to our larger communities, to the natural world, and to all living beings and all those struggling for life, we have dedicated our lives forward to being WILD voices.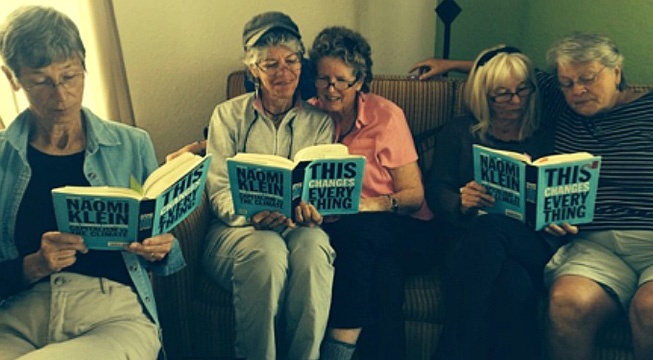 Kathe Thompson(FL), Kim Foley(CO), Liz Lafferty(CA), Deb James(NM), Judy Todd(OR), Kai Sanburn(WA) and Miriam Kashia(IA) speak to communities and congregations of all kinds and offer support, training and agitate for change.
Visit them at WILD-Women Inspired on Facebook and subscribe to their newsletter by emailing Judy: judy@yournatureconnect.com