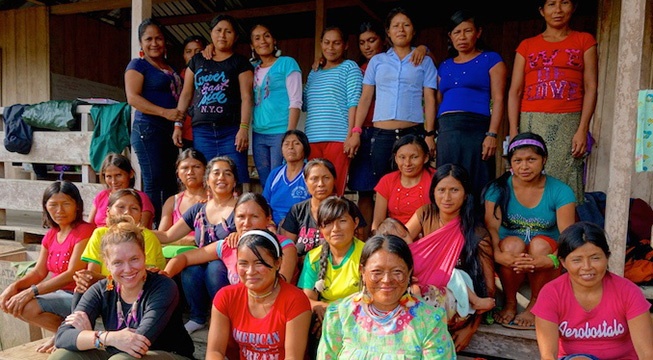 These Achuar women just finished a training in maternal and neo-natal health.


International Women's Day is March 8th. It is a day celebrated all over the world to recognize the progress women and their allies have made toward equality for women, and to acknowledge the achievements of women for a better world.
Today we're celebrating the accomplishments of Achuar women bringing safer birthing practices to their communities, and working toward a more sustainable world for all.
Women Hold the Keys to Climate Solutions
Worldwide, women often are the ones most directly affected by the effects of climate change.
In developing countries where women are responsible for collecting two-thirds of a household's water and growing 60-80% of its food, climate change endangers the food and water supplies that women must provide for their families.
Women are also disproportionately represented in in low-income brackets and more likely to be negatively affected by the erratic weather and natural disasters climate change has brought about.
Because women are some of the most affected by climate change, they are also the world's best hope for climate solutions. Our Jungle Mamas program with indigenous women in the Amazon rainforest is just one example of how women hold these solutions.
Equipping Indigenous Mothers
Our Jungle Mamas program equips indigenous women of the Achuar nation in Ecuador with the tools and knowledge they need to have healthy pregnancies, births, and families.
Our indigenous partners are the stewards of the lungs of the Planet—the Amazon rainforest. The indigenous women who birth and raise the next generation of rainforest guardians are helping to ensure Earth's health and balance—protecting us all.
Weaving together the Ancient and the Modern
In Achuar culture, young women will begin having children at age 14 or 15 and each woman might have 4 to 12 children.
Traditionally, an Achuar woman gives birth in her Chakra, her sacred garden space. The Chakra is where she helps cultivate crops for her family—a sacred place she is intimately familiar with.
In the months leading up to giving birth, Achuar women usually leave their daily routine largely unaltered. And when the time to give birth arrives, an Achuar woman will give birth alone, squatting down as they hold onto a wooden post.
Tradition is of great importance to the Achuar people, and Jungle Mamas was designed to weave together Achuar traditions with midwifery techniques to ensure that Achuar women have safe and healthy births.
Jungle Mamas uses workshops, follow-up trainings, community visits and teaching materials adapted from internationally recognized guidelines to teach Achuar woman how to better ensure their own health and the health of their children, including protocols designed for dealing with emergency situations.
"Things have changed, women don't die during childbirth," states Dr. Gerardo Tsamaraint a health leader amongst the Achuar.
A Goal For 2015
Currently the Jungle Mamas Program has reached 71% of the Achuar's vast 800 mile territory covered. The goal is to reach 100% of the Achuar lands by the end of 2015.
As climate change progresses, women will continue to deliver new and innovative solutions to care for their families and the Planet.
The Jungle Mamas and all women worldwide hold the keys to the future within.