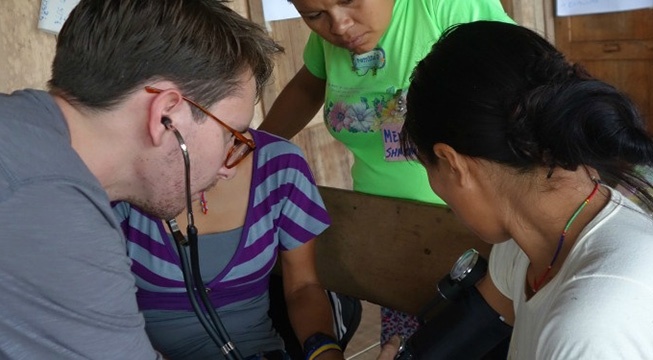 The following is a guest post by David Warshaw, a second-year medical student at the NYU School of Medicine. He is interested in international health and disaster relief, and wrote this post to reflect on his experience with the Jungle Mamas during the summer of 2015.
Wide-eyed, eager, and anxious, I boarded a plane destined for the far reaches of the Amazon rainforest. We landed on a dirt runway, surrounded by palm trees and thatched-roof buildings, and were immediately greeted by the chief and his son. In Sharamentsa, where the nearest roads are twenty minutes away by plane, and where the most common form of travel is the peke peke motorized canoe, I learned what it truly means to work in global health.
I spent the summer working with the Jungle Mamas, a program that teaches and trains indigenous midwives and birth attendants (called community maternal health workers) in the Achuar territory of the Ecuadorian Amazon. Our workshop taught everything from pre-eclampsia to family planning, and I was thrilled that I could have such an immediate and enormous impact on someone's life. Through the workshop participants, we could even begin to see change in the community. I loved that the workshops were so tailored to the Achuar culture: they were taught in Spanish and translated into Achuar, and relied heavily on pictures, discussions, and hands-on practice since many of the participants had difficulty reading and writing. I learned just how hard it can be to teach about health, and how important it is to ensure that the information is both useful and usable in the community.
While the community maternal health workers learned from our workshop, I learned from them. Before arriving in Ecuador, I imagined that I would learn all about traditional forms of medicine, and learn how to incorporate these ideas into my future practice. However, what I have learned has far surpassed a factual knowledge of herbal and alternative medicines. Through my time in the Amazon and in Quito, I learned to change my perspective on medicine. In the Achuar territory, Western medicine is often viewed as a "last resort", only to be used when shamanistic and natural medicines have failed to soothe, treat, or cure. Learning about these beliefs, I thought about our standards of care. I asked myself: how much medicine is really necessary?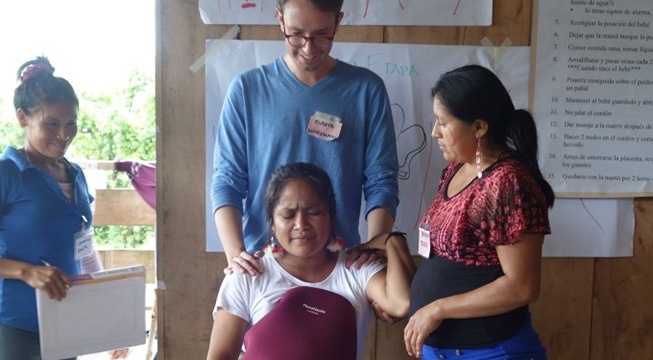 Participating in a Jungle Mamas birthing workshop.

I know that our lives and circumstances are very different; in fact, the Amazon and Manhattan are almost completely opposite from one another. But, I still feel that the Achuar could teach us a lot about medicine, and I think this is a valuable lesson to take into my future career. Everyone has different beliefs about medicine, and with some curiosity and an open mind, I can be sure to include my patient's culture in his or her care.
My summer in Ecuador has re-invigorated my interest in global health as a career. Since applying to medical school, I have dreamed of working for an organization like Doctors Without Borders (MSF). The experience of living in Quito and in the Amazon has stretched the edges of my comfort zone, and I hope that it has made me even more ready for a career in global medicine, health education, and disaster relief. I am returning to my second year of medical school with clearer goals, a sharper focus, and with a stronger desire to become a physician.
Donate to Support Jungle Mamas
Your donation will:
Provide Clean Birth Kits to Achuar mothers-to-be ensuring healthy births in the rainforest
Train Community Maternal Health Promoters with life-saving skills
Fund workshops with Achuar men and women to help solidify communities
Expand the reach of the Jungle Mamas program to cover the Achuar territory of Peru