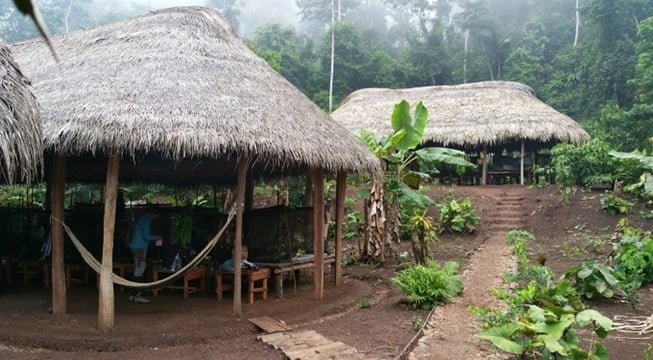 Thatched-roof houses at the Sápara ecotourism project, Naku.
Pachamama Alliance works to protect the South-Central Amazon region of Ecuador at the invitation of the Indigenous people who call this region home. For nearly two decades, our work has supported the Indigenous people of the Amazon basin to fulfill their right to self-determination by preserving their lands, culture, and way of life.
On International Mother Language Day, we are thinking of our Indigenous partners in the Amazon, the Achuar, Shiwiar, Kichwa, Shuar, and specifically the Sápara—who were recognized in 2008 by the United Nations Educational, Scientific and Cultural Organization (UNESCO) as an "Intangible Cultural Heritage of Humanity" because their language and culture are in danger of disappearing.
The Sápara Nation
One of the smallest Indigenous groups in the Ecuadorian Amazon, the Sápara Nation of Ecuador (also commonly referred to as Zápara) is located in the Amazonian province of Pastaza and its territory lies about 300 kilometers southeast of Quito, the capital of Ecuador. This area—located between the Pindoyacu, Conambo, and Corrientes rivers—occupies an area of approximately 361,00 hectares of tropical rainforest. While their population is small, their territory is quite large and is a critical part of the Ecuadorian Amazon.
According to UNESCO, "The current situation of the Zápara people is critical, and today they are in very serious danger of disappearing altogether. In 2001, their population numbered no more than 300 (200 in Ecuador and 100 in Peru), of whom only five, all aged over 70, still speak the Zápara language."
The Threat of Oil Development in Sápara Territory
In late 2013, two blocks of rainforest were commissioned to oil companies for future development—blocks that make up the homeland of the Sápara people. And while no oil exploration has begun, Pachamama Alliance is partnering with the Sápara to ensure that doesn't happen.
The Sápara territory is seen by many as a gateway into large swaths of pristine rainforest that border it; therefore, the protection of this area is of critical importance to managing the preservation of the entire region in addition to maintaining the cultural heritage of the Sápara people.
Manari Ushigua, Sápara President from the Bi-National Sápara Federation of Ecuador and Peru, speaking at our 2014 San Francisco Luncheon.
Our Work with the Sápara
Pachamama Alliance has supported the Sápara people with a variety of studies so they can create a natural resource plan for their territory to optimize and sustainably manage the resources in their territories. Natural resource plans are created through collaborative decision-making, and provide tools for self-governance and participatory management that harnesses the collective wisdom of the community.
We have also worked with them to continue to build out their ecotourism project, Naku, to provide them with an alternative source of income.