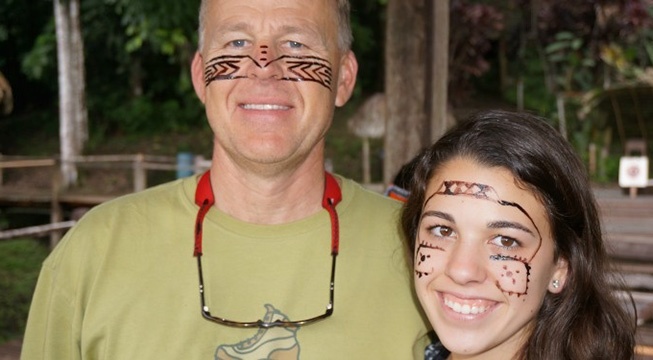 The following post is written by Haley Hansel, former online writing intern for the Pachamama Alliance. Haley and her father, Bryan Hansel, who is pictured above with Haley, were able to journey to the Ecuadorian Amazon together. This post is a reflection of the impact of that journey on her father both personally and professionally.

Over seven years ago, Bryan Hansel, my father and the CEO of Nohm, formerly known as Prevok, began working in the electric vehicle industry. He didn't set out to resolve any moral imperative. In January 2009 electric transportation was simply a business venture. Fast forward six years and the Pachamama Alliance has managed to inform and fundamentally change his personal mission, and in turn his organizational mission.
Visiting The Amazon
My father and I began 2015 in the Amazon and the 10-day journey was profoundly transformative to both of us. To him, there are two major components of the trip that primed his new consciousness—the people and the environment.
"One of the most important elements is the exposure to the existence of the Amazon and understanding the delicate reality of its existence, being immersed in it," he said. "You can see quite honestly how fragile it is, yet how critical it is. I think anybody who would ever go into the Amazon would walk out with a different appreciation for the critical nature of it."
Equally inspiring were the Indigenous people he connected with and the way of life he became entrenched in.
"It reframes the way you look at the world when you learn from somebody who lives and breathes and has this fundamental connection to our world that our society has lost or forgotten," he said. "It's eye-opening to understand that that opportunity and connection exists."
With a mindset now framed by connectivity, his entire consciousness has shifted.
How Consciousness Informs Business
Ever since my father's return from the Amazon, as well as his engagement in the Awakening the Dreamer Symposium and the Game Changer Intensive, the human impact on this planet has begun to inform his daily life.
"It changes you personally and if you think about business its just people," he said. "All leadership in business and all organizations are just a collective of that. So as a leader if I have a more accurate perspective of how the world works, I will bring that knowledge to my decisions."
"Whether that's with a customer or that's with an employee, continuing to repeat yourself and articulate the importance of what's going on, it changes that frame of why you get up every morning and what the ultimate impact of the business is."
The Impact of Nohm
My dad's commitment to maximizing the impact of his technology has grown tenfold in the past year. And the conversation about the bigger purpose of the organization has broadened and strengthened. No longer is his goal to sell products and drive revenue, instead he works actively to change consumer behavior and apply the technology efficiently in order to have maximum impact.
"Ultimately, our role in industry is to figure out how to truly move electric trucks into the mainstream and make it the new norm," he said. "Nohm has come together and has the sole focus of demand acceleration. As we talk about a lot, we can't not do it. We have to build the message and explain it in a way that people can't ignore."
This level of commitment has been achieved through our connection with Pachamama Alliance.
"Everything that I am striving for is a direct byproduct of my passion coming out of the rainforest and my connection to help fuel the growth of Nohm, which ultimately fuels the adoption of electric trucks."
In May 2015, Nohm launched as a joint venture between Smith Electric Vehicles and Hong Kong-based FDG Electric Vehicles. Originally named "Prevok," Nohm endeavors to "Change the Energy" of the planet (transportation and human spirit alike) using all-electric trucks, vans and buses as vehicles for change.
Nohm's charter is to accelerate EV adoption by combining the inherent advantages of EVs with business solutions for 1+1=3 value contribution. Nohm believes energy challenges are too big for any one person, business or city to tackle. Instead, success requires collaboration between parties with shared vision.
An ohm is the measure of electric resistance. Our vision is a world in which there is no resistance to positive energy.