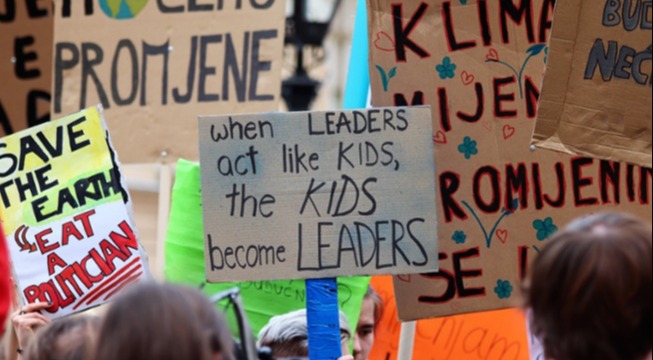 Image courtesy of Goran Horvat
Almost everyone now knows of Greta Thunberg.
In 2018, this 15-year old Swedish environmental activist sat outside of the Swedish Parliament to demand climate action. Her small act of holding a poster outside of Parliament turned into a worldwide youth climate movement with more than 14,000,000 people that continues to grow.
Seeing the lack of urgency in tackling the climate crisis—especially from world leaders and others in power—the youth population across the world are holding their officials accountable and taking charge of their future. Often, young people are left out of the conversation surrounding climate change, or their voices aren't taken as seriously. But intergenerational collaboration is critical for addressing the climate crisis.
Youth voices offer crucial perspectives, particularly as those who will have to live with the long-lasting repercussions of climate change in the future, and there's much we can learn from them. Below are four key lessons from the youth climate movement.
1. Representation is Key
The youth population recognizes how the environmental movement has been largely centered around the stories and successes of White and cis-gendered people. The lack of voices from other cultural backgrounds or other gender identities/expressions has left a hole in mainstream climate advocacy. But, because of the efforts of youth climate activists, people from diverse backgrounds are engaging in the youth climate movement.
Young people have taken it upon themselves to increase representation within the climate movement knowing that those who aren't being represented are often those most affected by climate change. Whether it's in their schools, clubs, social media, or organizations, young people are fighting for a just future by increasing the visibility of BIPOC, LGBTQIA2S, and Disabled communities and advocates.
Izzy Laderman, Xuihtezcatl Martinez, Mari Copeny, and Xiye Bastida—among many others—are youth climate activists using their platforms to show the importance of diversity and inclusion in the climate movement.

Izzy Laderman (she/her)
Izzy is the founder of Disability Awareness around Climate Change (DAACC). She recognizes how ableist the climate movement often is, and seeks to raise awareness on the unique impact of climate change on people with disabilities. She advocates for people with disabilities to not only be part of the climate movement but also be leaders within it. She hopes to spread awareness of the importance of intersectionality within climate justice movements.
Xiuhtezcatl Martinez (he/him)
Xiuhtezcatl started his advocacy at the young age of 6 when he spoke publicly about the sacredness of the planet. Informed by his Indigenous Aztec cultural background, Xiuhtezcatl sees the urgency of climate action and uses his platform as the youth director of Earth Guardians as well as a musician to spread his knowledge and demand action. For sustainable change, Xiuhtezcatl recognizes that he must not only target those already in power but inspire and create more youth-driven grassroots efforts.
Mari Copeny (she/her)
Mari, also known as Little Miss Flint, brought attention to environmental racism when she wrote to President Obama asking for help in solving the water crisis in her hometown of Flint, Michigan. Her advocacy led to President Obama supplying $100 million to help fix the crisis, and Mari continues to advocate for clean water and racial justice.
Xiye Bastida (she/her)
Xiye, is an organizer for Fridays for Future and the co-founder of Re-Earth Initiative. She is part of the Otomi-Toltec Indigenous people and, in 2018, was invited to speak about Indigenous cosmology at the United Nations World Urban Forum. Xiye continues to represent the youth's voice in existing climate organizations and grassroots.
2. The Power of Social Media
Information is spread faster than ever with the help of social media. Many young people are using their social media platforms—such as TikTok, Instagram, and YouTube—to connect with others, organize campaigns and protests, educate others on the climate crisis, and advocate for social justice issues.
Social media has also allowed people who don't have access to traditional mainstream media outlets to have their voices be heard. This is particularly useful for sharing different perspectives that often aren't included in mainstream conversations around climate change.
Intersectional Environmentalist is a media and resource hub that has used its social media platform to reach a vast array of people. Climate activist Leah Thomas started this online community to respond to the 2020 re-emergence of the Black Lives Matter movement and bring social justice to the center of the environmental movement.
Leah and the other members of the Intersectional Environmentalist Council use their platform to educate people on intersectionality within the climate movement and on climate justice issues, as well as how to support small minority-owned businesses. This growing community of activists is tackling not only the climate crisis but also other interconnected systemic issues across the globe.
3. Hold Others Accountable
Although many young people can't directly participate in the decision-making process at the institutional level because of their age, they continue to make demands of people in power and push for change.
The Sunrise Movement is a youth-led organization that mobilizes youth advocacy, and also finds ways to voice the concerns of youth climate activists to the U.S. government. They openly support and push for the Green New Deal, a proposed resolution for 100% clean energy and living-wage jobs in the next 10 years. Sunrise, along with the group Justice Democrats, also created a Climate Mandate for President Biden to create a governing team to address the climate crisis, create jobs, take action on the COVID-19 pandemic, and address systemic racism.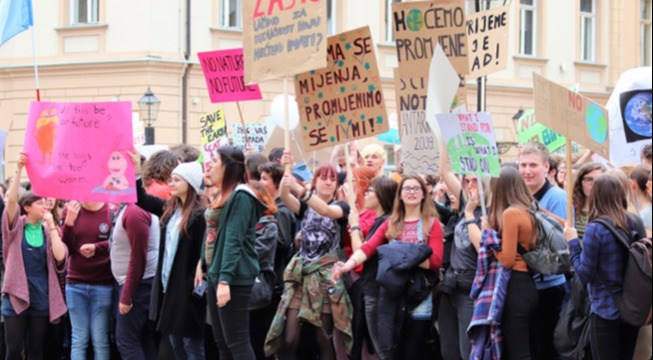 Fridays for Future is another youth-led organization pushing for climate action. It started with Greta Thunberg but has now become a movement that has reached over 14 million people across the world. Their advocacy includes strikes for climate action and equity as well as uniting people across the world to demand a just future from their governments.
Young activists are not only demanding action from political leaders and others in power, but are also mobilizing their own generation to take action.
4. Everyone Can Make a Difference in Politics
Many political campaigns and organizations tend to overlook the political impact of young people. Many young people, whether they're eligible to vote or not, have been civically engaged on both a local and national level, sometimes even making a significant difference in voter turnout.
The perseverance of youth activists—regardless of their age—to be engaged in politics led to an increase in the youth voter (ages 18-29) turnout from 39% to over 50% in the 2020 U.S. presidential election. This percentage will most likely continue to grow, especially given that 4 out of 5 (79%) young people say that the COVID-19 pandemic allowed them to realize how much political leaders' decisions impact their lives.
In 2019, Jerome Foster II launched OneMillionOfUs with the hopes of mobilizing the youth vote. OneMillionOfUs worked to educate people on and advocate for climate justice, gun violence prevention, immigration reform, gender equality, and racial equality, which inspired many eligible young people to register and vote in the 2020 election.
Throughout the 2020 U.S. Presidential and Congressional primaries, as well as the General Election, the Sunrise Movement reached over 8 million eligible youth voters by texting, sending postcards, utilizing social media, phonebanking, and engaging voters directly at polling places.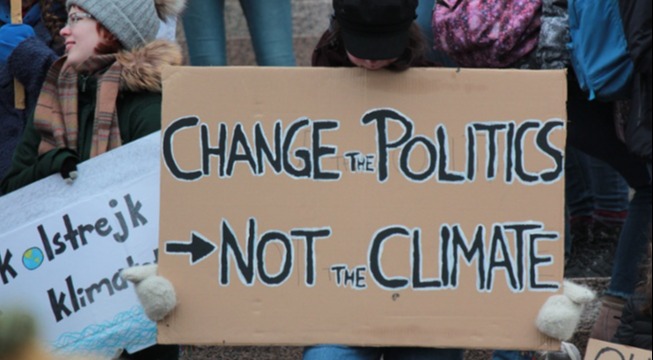 When Joe Biden won the U.S. presidential election, Sunrise along with other progressive youth groups created a letter with a list of demands for Biden's presidential agenda that included reversing the effects of climate change, modifying foreign policy, preventing gun violence, improving education, and expanding health care. In addition to these demands, this letter provided recommendations for who should and should not be involved in the Biden Administration. Youth groups encouraged the Biden Administration to appoint progressive leaders who support ideas such as the Green New Deal, while advising against appointing those who are tied to Wall Street, corporations, and fossil fuels.
From spreading resources on how to register to vote to voice their opinions on political issues, the youth population has made sure that they're somehow represented on the ballot.
More Inspiration from Youth Activists
Many youth climate activists are using music and art to advocate for climate action.
Below is an excerpt from the poem "When Will We Realize", written by 16-year-old, PV:
Let me tell you it's becoming harder and harder to find that beautiful day
where the sun flushes just right
for
the quick cool winds have become dry.
and the glare of the sun has become sharp painful stings
So I'm pleading to you
do something before it's too late
before we become completely blind to mother earth's pleading cries
and deaf to the frightened screams of birds and animals.
So protest with me
So march with us
So scream with them
So fight like you never have
Fight until you bleed the colour of guilt
because
for humans and humanity,
This is
Just
The
Beginning.