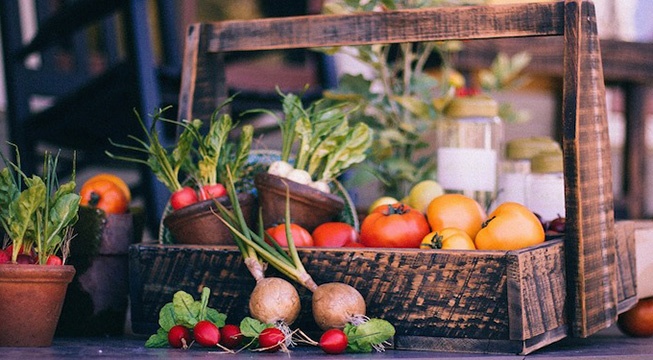 With the world's population now more than 7 billion, our current rate of consumption of animal products is having a profound effect on the planet.
Meat, dairy, and egg production emits more greenhouse gasses than the entire transportation sector, is highly water intensive, and is a leading cause of deforestation. And the fishing industry damages aquatic ecosystems, too. For every pound of fish caught, five pounds of marine species are caught and discarded as by-catch.
Simply switching to a plant-based diet can majorly reduce your impact on the planet.
Starting Small
Overhauling your diet can feel like a daunting task, but even small steps can have an impact. You might start by trying a few dishes that you traditionally create using meat as a vegetarian version instead. Spaghetti with marinara sauce instead of meat sauce or bean burritos instead of beef burritos are just a couple of examples. Most bookstores and libraries are usually brimming with vegetarian cookbooks and you can also find a bounty of recipes online.
Meatless Mondays or giving up animal products just once a week is a good place to start and will decrease your carbon footprint.
Nurturing Nostalgia with Meat Alternatives
Because food is often such a central part of special moments and celebrations, we make connections with the flavors of the experience. For example, smelling coffee first thing in the morning just feels right for many people. So when it comes to animal-based foods, there are situations that make many of us feel comfortable due to our memories and associations. For example, in the U.S., the essence of summertime can often be captured by the smell of a grill with hot dogs sizzling away. Could we still have this familiar feeling with a carrot on the grill?
While many plant-based meals are constructed solely of fruits, vegetables, legumes, nuts, and grains, there are instances when a plant-based meat alternative might better suit a recipe to evoke a familiar experience.
Meat Alternatives
In response to many people reducing their consumption of animal-based foods, more companies are producing delicious plant-based alternatives to the their familiar meat and dairy counterparts.
Just as you would with deciding which animal-based foods to buy, before deciding which plant-based products are right for you, be sure to do research on company practices to see if they align with your values and to research ingredients to make informed decisions.
Gardein offers a variety of plant-based versions of meat and fish classics.
The grocery store, Trader Joes sells several completely plant-based options. Their soy chorizo sausage, has a meaty consistency, crumbles easily, and goes especially well in tacos. They also offer Vegan Tikka Masala, made with pieces of soy instead of chicken.
Another brand is Neat. Neat makes a vegetarian mix mostly from pecans and garbanzo beans. The buyer then blends this mix with a binding agent and shapes it into the type of food they want. Currently, Neat offers three flavors: original—good for shaping into burgers, Italian—good for rolling into meatballs, and Mexican—good for crumbling into tacos.
Beyond Meat makes an array of alternatives such as chicken-free strips, Beyond Beef, and Buffalo Poppers. Their creators are dedicated to improving the health of the planet through changing the way the world eats and hopes to reduce global meat consumption 25% by 2020.
Fish-less Seafood
In addition to Gardein, brands such as May Wah, Vegetarian Plus, and Sophie's Kitchen offer plant-based alternatives to fish. You can also make your own fish-less seafood dishes like watermelon based poke or tuna salad made from tofu and kelp powder.
Dairy Alternatives
Not only have meat alternatives gained popularity but dairy-less cheese, milk, yogurt, and ice cream have made their way into the market as well. These products are commonly made from soy, almonds, or coconuts.
Kite Hill focuses on sustainability and makes nut-based artisanal cheeses.
Northern-California-based Miyoko's Kitchen offers mail order for their artisanal nut-based cheeses.
Daiya makes a variety of plant-based cheeses, pizzas, cheesecakes, and other products and can be found in many mainstream grocery stores.
Baking
It's possible to bake delicious desserts from purely plant-based ingredients using recipes you already have with just a few alterations. As with any new endeavor, your first few attempts at plant-based baking might involve some trial and error as you discover which alternatives work best for your specific dish.
Baking without Eggs
Products such as Bob's Red Mill Vegetarian Egg Replacer provide alternatives to baking with eggs. You can also refer to online guides that explain how to make your own substitutes as well. Do research to find which type of replacer will best work for your baking project.
Baking without Dairy
In general, cow's milk can be replaced by soy, almond, rice, coconut, or other non-dairy milks when baking. Plant-based substitutes like Earth Balance's buttery baking sticks or coconut oil can be used as alternatives to butter, but surprising ingredients like applesauce can work in some recipes as well. Cream can be replaced with homemade cashew cream. To get heavy cream, refrigerate canned coconut milk overnight and once the layers have separated, use the top layer.
Veggies on the Rise
The amount of vegetarians in the United States has doubled since 2009, demonstrating a shift in consciousness about how our food choices affect the planet. As this trend continues, it is foreseeable that even more plant-based alternatives will line grocery store shelves.
While the brands that have been listed in this post are found primarily in the U.S., the world is full of delicious meat and dairy alternatives. A quick search for products in your area might lead you to discover a new brand.
Note: While many people thrive on a plant-based diet, Pachamama Alliance does not take the place of a doctor's recommendation. Be sure to consult with your doctor or nutritionist before undertaking any major dietary changes.