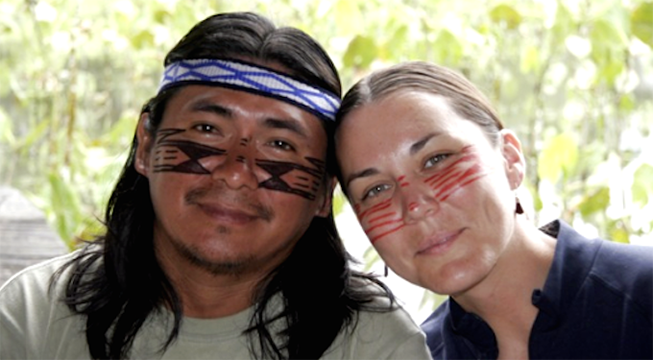 The Achuar people reside in both Ecuador and Peru and belong to one of 5,000 remaining indigenous tribes in the world. Their name means "the people of aguaje palm," which shows just how intertwined their culture is with the pristine nature that surrounds them. They are an especially unique group of people who take pride in preserving the nature around them, living off of it in a sustainable way.
The Pachamama Alliance was born out of an invitation from the Achuar people of Ecuador to work in partnership with them to preserve their land and culture from oil exploitation while bringing forth a new worldview that honors and sustains life.
The Achuar Nation of Ecuador has developed an ecotourism project called Kapawi Ecolodge located in the Ecuadorian Amazon. Individuals from all over the world are invited to visit and learn from their ancient culture and pristine rainforest so that we may carry their wisdom and message home.
Through the social media platform Instagram, users have tagged their photos with #Achuar, sharing and revealing the most profound moments on their journey to the Ecuadorian Amazon. Here are 14 photos that highlight the transformative experiences you might encounter while visiting the Achuar.
Biodiversity
The Ecuadorian Amazon is one of the most biodiverse places in the world, and people who visit the Achuar are astounded by the abundant greenery, plants, and animals of the rainforest.
Amy Remondi said of her stay with the Achuar, "If I just sit outside, I can see birds and monkeys saluting me from the trees, and butterflies everywhere of iridescent blues, incredible reds, and fluorescents."
Canoeing
There are no roads that lead to the Achuar community because of its remote location deep inside the rainforest. Besides walking, canoeing is the only method of transportation. You can look forward to traveling by canoe during your visit with the Achuar.
An Unconventional Stay
A journey to the Ecuadorian Amazon guarantees an extraordinary opportunity to step away from the familiar, whether you're at the Kapawai ecolodge run by the Achuar or in an Achuar home.
According to Kester Reid who spent months with the Achuar teaching English, the absence of urbanization is especially refreshing, "No centre pole supports the immense weight, somehow it supports itself. Not a brick, not a nail, ingenious jointing and lashings of vine hold all together these years and years, standing cool and tall and open to all. The cavernous space of roof invites the essence of sky inside, and the earthen floor beneath is the gently undulating complement to the geometric precision of the architecture."
Full Immersion
On a trip to the Kapawi Ecolodge, you can expect to fully be immersed into the indigenous culture. A Pachamama Journey offers the rare privilege to have a profound immersion with indigenous people. You will be invited into their ancestral culture, providing direct experience to learn from an uninterrupted lineage of wisdom amongst the vibrant forest.
Culture Exchange
You will learn firsthand about the challenges and visions of our indigenous partners, and how you can join them in ensuring this global treasure remains intact.
Feelings of Interconnectedness and Tranquility
After a Journey, participants describe a lasting feeling of tranquility and interconnectedness; newfound courage and clarity around their life, work and purpose; and sustained commitments and actions that support their transformation.
Meet Committed Rainforest Guardians
The Achuar who run Kapawi Ecolodge are committed to keeping the Amazon rainforest intact for generations to come.
Connect With Spirit
Journeying to the rainforest is an opportunity to get in touch with the spirit of life and reconnect with nature. By being present in the moment with nature, you may discover a new part of yourself and experience a complete recalibration and attunement of body, mind, and spirit.
Shamanism
You will also have a unique opportunity to experience a healing and cleansing ceremony with a local shaman.
Experience It For Yourself
Join us on a one-of-a-kind Pachamama Journey to experience an immersion with the Achuar for yourself. Pachamama Journeys are a rare opportunity to learn from our indigenous partners. At Kapawi ecolodge, you are not simply an observer of the indigenous lifestyle—you become an active member of it, present in each moment with the Achuar people as their friend and ally. You will see what the Achuar people see everyday, whether that is the harmonious tune of nature, the need for more preservation, or the simplicity of life.
On a Journey you will start to better understand the Achuar challenges and dreams of living harmoniously and sustainability alongside other indigenous and non-indigenous communities, and you will become equipped to spread the message when you arrive back home. The Achuar community has extended their invitation for any person of any nationality to understand their take on the world, and it is up to you to respond. Come Journey with Pachamama Alliance—you truly won't regret it.